Chartres-Abbott was gunned down outside his Reservoir home on the day he was set to stand trial for raping Mr Perry's girlfriend and biting off her tongue.
In 2014, Mr Perry was acquitted of Chartres-Abbott's murder, with the statement from Ms Gobbo about his so-called confession never used in the case against him.
The murder remains one of Victoria's most high-profile unsolved crimes.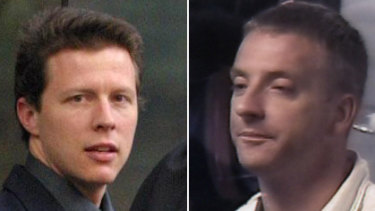 Mr Iddles and another former officer, Steve Waddell, took Ms Gobbo's statement when she was in hiding in Bali in 2009.
A copy of the statement, containing the confession, was unearthed last year by the royal commission investigating Ms Gobbo's role as police Informer 3838.
Mr Iddles and Mr Waddell clashed in their recollection of Ms Gobbo's statement. Mr Waddell was adamant she said Mr Perry had confessed. Mr Iddles insisted he had no recollection of a confession "whatsoever" and said it was unlikely it occurred.
Mr Waddell had carriage of the statement after the Bali trip, while Mr Iddles went back into the homicide squad.
Ms Gobbo shifted her position when the alleged confession was uncovered, accusing police of doctoring her statement. She has since conceded, under questioning at the commission, she could be wrong.
In a surprise move during the commission's hearings on Friday afternoon, Victoria Police lawyer Saul Holt, QC, showed Mr Iddles five previously unseen records of meetings in the months after the Bali trip in which a steering committee overseeing a police taskforce spoke about "Perry issues".
Loading
The  statement was also used by police when they submitted an affidavit requesting surveillance on a suspected crooked officer in 2009. It was also in an email to prosecutors to assess its credibility.
"I'm disappointed that whilst I have no independent recollection of this, it's caused me considerable grief when there are documents which could have been shown to me by Victoria Police," Mr Iddles said.
"I'm an ex-member, I'm not some crusader. I'm an ex-member who could have been shown [a] document to say, 'Ron, you're wrong, we've got the documents to show that you're wrong'."
Mr Iddles rejected a suggestion from Mr Holt he had accused Mr Waddell of corruption. "You will not find me speaking anything against Mr Waddell, ever," he said.
Mr Iddles' lawyer Robert Richter, QC, said the "breadcrumbs" Mr Holt had shown that suggested the confession occurred, were not actual evidence Ms Gobbo told them.
Mr Richter suggested there was a two-month window after they returned from Bali for the statement to be tampered with.
Tammy Mills is the legal affairs reporter for The Age.