Witnesses told police that a car drove past Chasers nightclub, which was closed at the time, and then shots rang out.
The shooting victim, believed to be in his late teens, was dropped off at The Alfred hospital and remains in a stable condition with a gunshot wound to his hand.
The first crime scene was set up at the corner of Bray and Grey streets, where police say the man was shot.
Half a dozen shot gun casings were found more than 200m away, close to where a second crime was established on Garden Street.
Police believe the shooter fled a short distance from the scene in the white Audi SUV before dumping the car with the engine still running in Garden Street.
Detectives are investigating whether the incident was a drive-by shooting or occurred in the street. Police say they don't know if the parties are known to each other.
Parts of Bray, Garden, Grey and Chapel streets remain closed to the public.
Nearby cafe workers were told not to reveal what they saw, but local residents say they heard a large group of men fighting before shots were fired.
More than 50 people congregated in the area after the shooting, with specialist police units attending the scene to assist with the large number of people leaving the venue.
Two SES tents were erected, and police searched the area near housing commission flats on Saturday morning.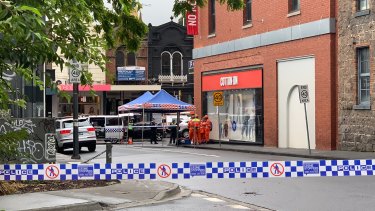 Heavy rain caused headaches for investigators at both crime scenes.
The licensee of Chasers nightclub, Martha Tsamis, told reporters the venue closed at 4.30am after an R'n'B night which was predominantly attended by African-Australian youths.
Police monitored the venue throughout the night.
A post on Chasers' Instagram account reported the club was at capacity at 2.30am on Saturday. "Full House at Chasers. No more guests will be able to enter tonight. We thank you for your patience and we appreciate your support for leaving the area," the post said.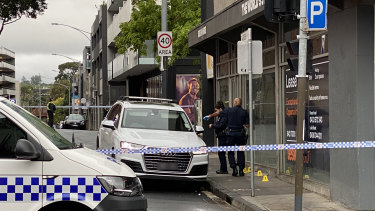 Chrissie Maus, general manager of the Chapel Street Precinct Association, said safety remained the traders' number one priority.
"We are not afraid to shine a light on serious issues impacting Chapel Precinct traders and we are working together with Stonnington and Prahran police for shared outcomes on serious matters such as this serious incident," she said.
"Prior to Christmas, we saw record numbers of new businesses opening in Chapel Precinct and we believe this in part is due to the community collaboration with Prahran police and additional foot patrols."
Security guard Aaron Osmani and patron Richard Arow were fatally shot outside Love Machine, a Prahran nightclub, on April 14 last year.
Detectives would like to speak to anyone who saw the Audi in the Chapel Street area before the shooting. Anyone with information should contact Crime Stoppers on 1800 333 000.
Erin covers crime for The Age. Most recently she was a police reporter at the Geelong Advertiser.
Ashleigh McMillan is a breaking news reporter at The Age. Got a story? Email me at a.mcmillan@theage.com.au