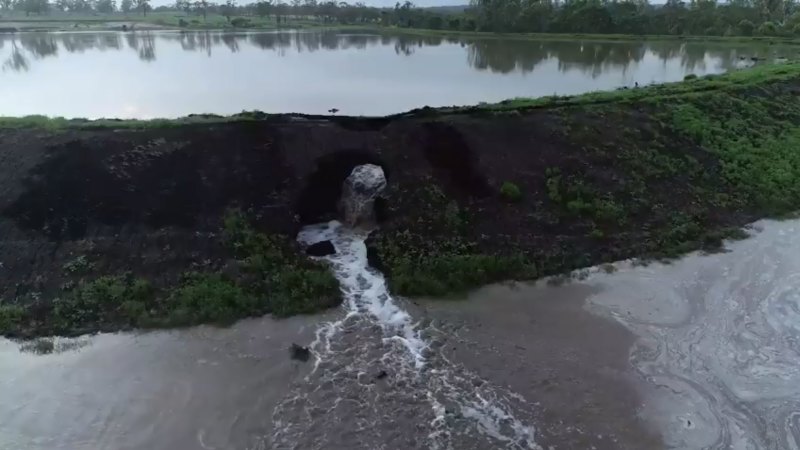 Police were assessing the situation at about 9.30am before meeting with the council and emergency services to make a decision about reopening roads and allowing residents to return home.
"[The dam wall] is still holding up, it's about 25 per cent emptied now and the flow has decreased slightly because, of course, there's less water behind it," Cr Dobie said.
"What we'll be doing later this morning is … once the police have done their assessment, looking at whether we hand control of the area back to the owner or whether the police stay in control of that area."
Cr Dobie said seven homes were evacuated on Friday night and landowners were staying with family and friends.
She said all of the evacuated homes were built away from the floodplain of a 100-year flood.
"What we're analysing now is what if this dam wall was to break, what does it equate to? Is it equivalent to a 50-year flood coming down that valley? Is it a 100-year flood?" Cr Dobie said.
"That's the assessment we're doing this morning."
Cr Dobie said the council was being cautious, particularly out of concern about having to re-evacuate residents or reinstate road closures later if the situation worsened.
She said the hole in the side of the dam wall had widened "a little".
A levy bank immediately below the dam was believed to be holding back water spilling from the hole in the dam, which is on private property.
Loading
In a statement on social media on Saturday night, council said the owners of the property were "proactive in involving emergency services".
"Additionally, residents in surrounding properties are commended by all emergency services involved for their proactive and positive attitudes to this unforeseen event," it said.
The scare followed a wet start to the month that brought flooding to the region and to broader southern reaches of the state.
As much as two years' worth of drinking water have flowed into Leslie Dam near Warwick, bringing the rainfall totals for the first two months of 2020 close to those for all of 2019.
Major flood levels were expected to peak in Chinchilla and Condamine over the weekend as the south-east began to dry out after its drenching.
–with Matt Dennien
Lucy is the urban affairs reporter for the Brisbane Times, with a special interest in Brisbane City Council.