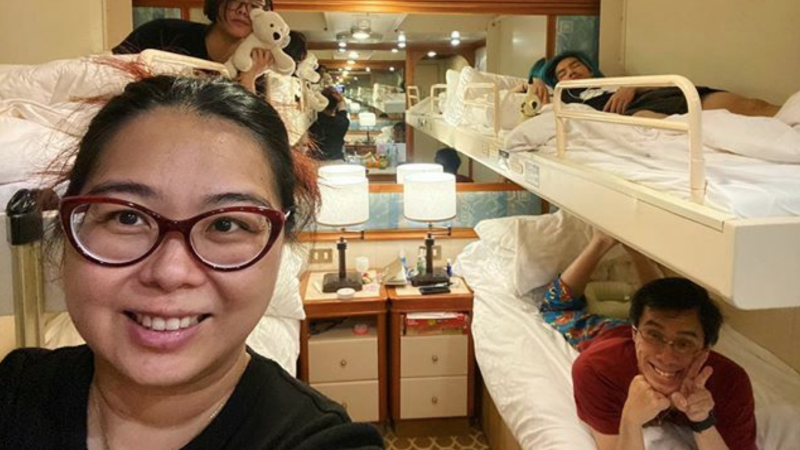 The US is sending an aircraft to Japan to bring back US passengers on the Diamond Princess, where the most coronavirus infections outside China have occurred.
The Australian embassy in Tokyo emailed citizens aboard the cruise ship to say the federal government is also examining options to assist Australians.
The embassy told citizens it understood it was a "very stressful" situation for them and that Australian medical officers were working closely with Japanese authorities to support them.
First coronavirus death in Europe
Meanwhile Europe has recorded its first COVID-19 related fatality, the fourth outside mainland China and outside Asia.
An 80-year-old Chinese man, who was a tourist in France, died at the Bichat hospital in Paris of a lung infection due to the flu-like virus, authorities said on Saturday.
Outside mainland China there have been about 500 cases in some two dozen countries and territories, with four deaths – in Japan, Hong Kong, the Philippines and now France.
Christmas Island evacuees set to return home
Back in Australia, a group of quarantined citizens who have been in lock-down at the Christmas Island Detention centre for two weeks are set to return home on Monday as the government's quarantine period lapses.
A second group is expected to leave on Wednesday from the centre that's been a makeshift home for 540 Australians who were airlifted out of Hubei province in China, the epicentre of the outbreak.
No quarantined Australians at Christmas Island and Darwin have tested positive for the virus.
Health checks at Australian ports
Passengers arriving into Sydney and Melbourne on some cruise ships are being assessed by health experts for coronavirus to prevent the spread of the disease.
NSW Health on Sunday said a risk assessment would be completed before each ship's arrival into the harbour city and then a decision will be made on whether to disembark passengers from the ship.
The health authority insists it is a precautionary measure to prevent the spread of COVID-19.
Passengers arriving in Sydney on a cruise ship from New Zealand on Sunday would be assessed as a "safeguard," the health authority said in a statement.
"No outbreak of COVID-19 has been identified by doctors on board the vessel that set sail from Auckland and travelled around New Zealand to Australia however, as a safeguard, any unwell passengers will be assessed by health teams here," NSW Health said.
A spokesperson from the Victorian Ports Corporation said the agencies had no suspected cases on board ships that had arrived, or were set to arrive, in Melbourne.
"We have health checks and screenings for all passengers boarding and disembarking ships," she said.
"We're getting updates everyday, and working very closely with the cruise companies".
Cruise season runs from spring to autumn and, according to the cruise ship schedule, Melbourne ports is currently receiving up to 10 arrivals each week.
Current death toll

Official figures released by the Chinese government put the confirmed coronavirus cases at 56,249 by end of day Saturday, while data compiled by the Johns Hopkins University's Centre for Systems Science and Engineering puts the figure at just over 69,000 on Sunday morning.
The death toll has reached 1666.
With AAP, Reuters and Anthony Galloway
Rachael Dexter is a journalist & audio video producer at The Age.