The ballroom itself was spared, but the foyer has been seriously damaged.
"The fire was contained to the foyer and actually didn't enter the ballroom which was a really good result, because there were silk sheets hanging all through the roof and a lot of combustible materials in there," MFB Commander Ed Starinskas told ABC radio.
"The MFB fire crews did a fantastic job at keeping the fire to the foyer of the building, but there's substantial damage to the foyer and to some adjoining store rooms."
A San Remo Ballroom manager told The Age that they had not yet been let into the building to see the extent of the damage and determine whether booked events could go ahead as planned.
She said staff were fielding calls and emails from concerned customers but no advice was available for them yet.
Nobody was at the San Remo Ballroom at the time of the fire, and what sparked it has not yet been determined.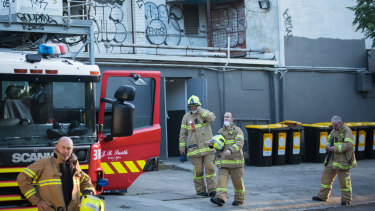 The art deco San Remo Ballroom has been a renowned wedding and party venue since 1963.
From the early 1900s it had been a cycling school, a roller skating rink, a furniture store and the Adelphi Theatre before it was turned into the San Remo Ballroom.
MFB will investigate the cause of the fire at the ballroom on Monday.
The fire shut down Nicholson Street in the early hours of the morning, with Victoria Police helping to manage traffic.
Trams reopened at 5am but city bound traffic only starting flowing about 6am. All traffic was reopened by 6.30am.
Rachel is a breaking news reporter for The Age.