A Planet Ark survey in 2011 found that 73 per cent of respondents said they played on the street when they were young compared to only 24 per cent of their kids .
The Victorian pilot, funded by Sport Australia, the City of Moreland and City of Darebin, will comprise16 play streets events in the next two months in Preston, Reservoir, Brunswick West, Coburg North and Fawkner.
The three other councils in the pilot are interstate: in South Perth and Vincent in WA, and Sunshine Coast in Queensland.
For local woman Maria, 49, the Meaker Avenue event was about connecting with the community.
Growing up in Reservoir, she played in the street ''all the time'' and wants the same for her daughters Mia, 12, and Ruby, 10.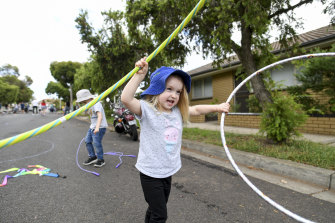 Maria said children today lived ''much more indoors'' or visit people elsewhere, with less time to play in their own street.
Dan Machado, 37, said it was great to see his son Manuel, 4, having fun playing mini golf and cricket, riding his scooter and swapping toys with other kids.
Mr Machado said children often have tightly scheduled activities so it was nice to have an event where Manuel could play freely.
''Extracurricular activities like sports are great, but then a lot of the time you end up going from one place to another, in a car with maybe less time for kids to play.''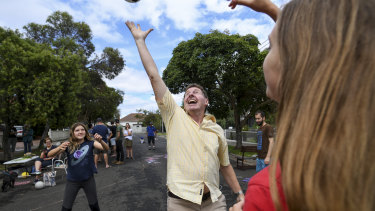 For he and his wife Kati, who also have a three-month-old son, Oliver, the event also ''enlarges the group of people you know''.
Resident and a co-organiser Peter Allan was thrilled at the success of the event, which included the ''launch'' of a communal worm farm, a herb patch and a park bench.
To the argument that it's not safe for kids be be outside due to stranger danger, Mr Allan said, ''I think the more people are out and about, the safer it's going to be.''
About the danger of cars, he said: ''The more people using streets for bikes and to play, the less [drivers of] cars are going to feel like they own the landscape.
''It's time we took back our roads from the cars.''
Play Australia executive director Barb Champion said 1000 Play Streets is partly in response to decreasing levels of children's outdoor play.
Not-for-profit organisation Play Australia aims to support 1000 such events across Australia by 2025.
The project is inspired by the UK's Playing Out program, which started in 2009 and has now involved almost 1000 streets.
Carolyn Webb is a reporter for The Age.