The Age has been told the clean-up could exceed $35 million, which will almost certainly be paid for by the government.
Until now, the owner, Danbol Pty Ltd, has resisted attempts by WorkSafe to take control of the Somerville Road property by insisting it had the financial means to cover all remediation costs.
But the Supreme Court found last week that Danbol Pty Ltd was not covered by any insurance policy when flames engulfed the Somerville Road warehouse, despite being offered a two-week extension just six days before the fire.
Justice Peter Riordan said that representatives of Danbol Pty Limited had not accepted the offer or paid a premium of $3506, which meant the company could not receive an insurance payout of about $9 million.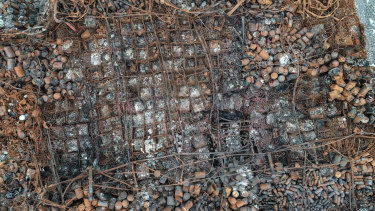 Danbol Pty Ltd is registered to Shepparton accountant Christopher James Baldwin, who has business links to the Hells Angels motorcycle club.
The Age does not suggest Mr Baldwin has done anything illegal. Mr Baldwin was once a partner in a now-defunct accountancy firm with Melbourne Hells Angels East County chapter bosses Peter "Skitzo" Hewat and Stephen "Stiffy" Rogers.
Mr Baldwin has also registered or acted as an intermediary for other businesses on behalf of bikie associates.
In January 2011, at the time the contract of sale was signed to buy the Tottenham property, the directors and shareholders of Danbol Pty Ltd were Mr Baldwin and Hells Angels' associate Reginald George Roberts.
Loading
Mr Baldwin's current accountancy firm in Shepparton was raided in 2018 as part of an ATO crackdown into alleged "phoenix activity", which involves registering a new company to take over the failed business of an earlier company to avoid paying debts. The ATO has not laid any charges in the matter.
Danbol Pty Ltd also defaulted on a short-term $300,000 loan that was costing up to $18,000 a month in interest – or a rate of 6 per cent – after failing to make repayments for more than six months.
Mr Baldwin's lawyer did not respond to requests for comment.
WorkSafe is currently tendering for the clean-up of the West Footscray site. According to tender documents, the site is heavily contaminated, including "friable" asbestos from the building's roof.
"The sludge caused discernible degradation to chemical-resistant safety boots used by emergency response staff and investigators at the perimeter of the burnt-out area," the documents say.
"Significant hazards from likely friable asbestos and volatile chemical vapours."
WorkSafe estimates there is up to 15,000 cubic metres of waste on the property, including up to 10 million litres of residual chemicals.
"Security, air monitoring and stormwater containment remains in place at the site," a WorkSafe spokeswoman said.
Loading
Chris Vedelago is an investigations reporter for The Age with a special interest in crime and justice.