"We've already expended our cap and we expended our cap really about a month ago, and we'll be sitting for the best part of five months now not knowing where the money will come from," Ms Glanville told The Age.
Even with contingency funding from the federal government, Ms Glanville anticipates Victoria Legal Aid will need to find another $2 million to $3 million this financial year to deal with serious criminal cases.
For every $100,000 drawn from Legal Aid's family law fund, there would be 13 fewer independent lawyers able to act for children when their parents are before the family court, Ms Glanville said.
Victorian Attorney-General Jill Hennessy said the funding cap was unfair, leaving vulnerable women and children without legal support.
"They mean fewer lawyers will be appointed to represent the best interests of children and fewer women will have access to help in cases where they are experiencing family violence," Ms Hennessy said.
Federal Attorney-General Christian Porter said the Commonwealth government had doubled the money allocated to the Expensive Commonwealth Criminal Cases Fund to $8 million nationally.
Ms Glanville said it still didn't meet demand. According to its annual report, the federal government spent almost $12 million to fund 77 serious cases in 2018-19.
Mr Porter said the government provided upfront funding based on anticipated costs to reduce the burden on the sector after consultation with legal aid commissions last year.
"Consistent with past years, where particular legal aid commissions have raised that they are facing particularly high demand, my department and the government, work with these bodies on managing this," Mr Porter said.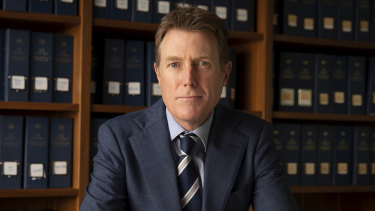 Family and criminal lawyer Mark Woods, from Morwell in the Latrobe Valley, said the sector was already under enough strain, and the eligibility criteria to access legal aid funding has never been stricter.
"I have been a practice lawyer for more than 30 years in this region and I have never seen funding so restricted as it is now," Mr Woods said.
He said the family law system "gets it in the neck" when changes to Commonwealth law funding are made.
Ms Glanville said the reimbursement model needed to be reinstated because anticipating funding was difficult.
"It depends on what crimes occur and what matters the Commonwealth Director of Public Prosecutions decide to prosecute, and where they are prosecuted," she said.
Some years, Victoria Legal Aid spends $1.5 million on Commonwealth criminal cases, while in other years costs rise to $5 million.
"That's why a reimbursement model is important," Ms Glanville said.
The cases, she said, are usually complex, run for months and involve more than one suspect. Legal Aid is able to draw funding from the Expensive Commonwealth Criminal Cases Fund when a case costs more than $40,000.
"They should be defended, they should have legal representation," she said.
"You want people to get a fair hearing, you want cases not to stall and take longer than they needed, you want the community to get justice they're seeking."
Tammy Mills is the legal affairs reporter for The Age.