It is expected to reach Bourke this weekend, Tilpa in the first week of March, Wilcannia in the third week of March and Lake Wetherell between March 18 and 26.
It will be the first time the Darling River has flowed at Bourke, with the exception of one rain event that filled the weir pool in November, in more than 18 months.
Brewarrina mayor Phil O'Connor said he had never seen the Barwon River rise so fast – a factor he put down to the embargo on floodplain harvesting.
"The excitement in town is beyond belief," Mr O'Connor said.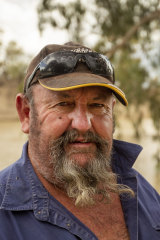 "The kids are swimming in it and it's just magnificent. The river has come back to life and the whole town has come back to life."
Water NSW has been revising upwards the amount of water expected to reach each town. According to its most recent update, Lake Wetherell in the Menindee Lakes system is expected to receive 15,000 to 35,000 megalitres.
Despite the replenishment of the river system, more than 99 per cent of the state remains in drought.
Rachel Strachan, who lives on the Lower Darling south of the Menindee Lakes, between Pooncarie and Wentworth, is hoping there is some water left by May when it would be expected to flow through her property.