There aren't too many Australian midfielders who are punching holes at Super Rugby level, never mind in the Test arena.
But there is a name, of course, that fits the bill. Samu Kerevi is playing for Suntory in Japan. At present, he is out of Wallabies' contention because he doesn't have enough Test caps to qualify under the Giteau Law (Kerevi has 29 Test caps, but needs 60 to qualify). That law is under review. I'm putting two and two together here and coming up with four. It's time to give Kerevi a call.
Such a decision would come at a time when all countries are wrestling with how to win as many Test matches as possible, yet still keep their players at home.
The Irish did it with a taxation solution, a tax-back scheme that kicks in at the end of players' careers (I understand former Wallabies coach Michael Cheika actually raised this with the pollies in Canberra during his time in charge).
The Springboks have gone another way, bending to economic reality and picking players from Europe and Japan. It worked brilliantly last year.
The All Blacks have a famously hard-line policy of not picking anyone not playing in New Zealand, but if you get under the bonnet of that policy you can see they have also made significant compromises to maintain it.
Notwithstanding the fact they actually did pick No.7 Matt Todd for the 2018 end-of-year tour while he was contracted to Panasonic Wild Knights in Japan, their highly flexible solution means that the likes of Brodie Retallick and Sam Whitelock have been allowed stints in Japan (Retallick will miss the entire Test season in 2020), while Beauden Barrett has been granted a similar option (as well as a delayed start to this year's Super Rugby competition).
But the country that interests me the most when it comes to the Wallabies is England.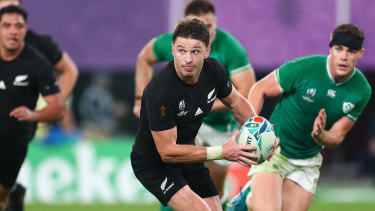 The English also refuse to pick players playing outside their competition, but with a caveat: they have an "exceptional circumstances" clause they can invoke. Previously, that has been interpreted as meaning a large-scale injury crisis, but with the Saracens salary-cap scandal opening up the possibility they could lose some top players to overseas competitions, the RFU has not ruled out using it next year.
I like the wriggle room they have given themselves, while still clearly signalling that it is their priority to pick home-based players.
This is the sort of approach I would like to see with regards to Kerevi. Rugby Australia would be playing with fire if they tore down the current Giteau Law completely, but Petaia's injury would seem to be the sort of "exceptional circumstance" that could permit them to use Kerevi yet still maintain the essence of the policy.
Kerevi is world class, and picking him from Japan is likely to be a very different matter to, say, picking Rory Arnold after a season of tight-five grind with Toulon in France.
Loading
The Japanese league is not as physical or long, but you only have to look at the conditioning of the players coming through their university system to know that they take training very seriously.
As for someone such as Will Skelton, Rugby Australia's regulations allowing the Wallabies to pick players who have made a commitment to coming home are flexible enough – Nic White was back in Wallabies colours in 2019, but he won't play Super Rugby until 2021.
New Wallabies coach Dave Rennie loves a bit of punch at No.12. At the Chiefs, he used the likes of Sonny Bill Williams, Bundee Aki and Charlie Ngatai. Kerevi would be his sort of player. So, with Petaia's return date uncertain, let's have another conversation about Wallabies eligibility.
Paul Cully is a rugby columnist for The Sydney Morning Herald.