Mary Street is closed between Edward and Albert streets and will remain closed for some time, with significant delays expected.
Witness Susan Latham said she had just stepped out onto her balcony to smoke a cigarette when she heard the semi-automatic gunfire.
"It was one [gunshot], followed by three more, followed by two, all in rapid succession," she said.
"It sounded semi-automatic, it sounded like a police pistol.
"I turned around and there was a man lying on the ground, with several police officers around him, traffic was starting to pile up and people were running away.
"I saw police go over and kick something out of his hand, then they performed CPR on him for probably three to four minutes and five minutes later the sheet went over him."
Ms Latham grew up in Brisbane, before moving to Townsville more than 20 years ago. She only moved back to the River City for work five weeks ago.
"It was a bit of a shock for this to happen so close, but I will still be staying, because I work here now," she said.
"The police did a really good job of making sure the public was safe."
Detectives were speaking to staff from the adjacent Quest River Park Central apartments and the Westin Hotel, with both blocks of apartments cordoned off.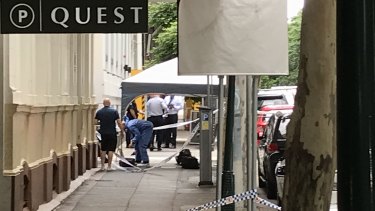 It is the second time in as many months the Westin has been in the headlines after the Chinese national women's soccer team was quarantined in the hotel for two weeks due to coronavirus fears.
Investigations are continuing.
Toby Crockford is a breaking news reporter at the Brisbane Times
Tony Moore is a senior reporter at the Brisbane Times