Mr Dick has been charged with one count of murder over his brother's death, and with the attempted murder of Mr Cammarata.
Court documents show he has also been charged with stalking Mr Cammarata by following him and loitering outside his workplace with the "intention of causing physical or mental harm to the victim, including self-harm, or of arousing apprehension or fear in the victim for his or her safety".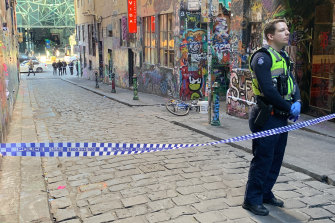 On Monday, Mr Dick appeared before the Melbourne Magistrates Court via video link for a brief committal mention.
His lawyer said a forensic psychiatrist had assessed Mr Dick and was of the view that he could not yet make a final decision on whether he was mentally impaired and needed documents from Corrections Victoria.
Loading
The lawyer also they would likely subpoena these documents from Corrections Victoria to help with the assessment, as a freedom of information request they had lodged was taking too long and causing delays in the process.
The report into whether mental impairment is an issue will be finalised before Mr Dick's next court appearance on April 6.
Clean shaven and with short hair, Mr Dick sat with his hands linked throughout the proceedings.
Asked by the magistrate if he understood what had happened during the hearing, he said: "Yes, no worries, thank you".