Federal Treasurer Josh Frydenberg, who is Jewish, backed the curriculum change, tweeting that "racism [and] hate stem from ignorance which is why education, particularly of our young, is so important".
The curriculum change comes four months after a 16-year-old Victorian schoolboy was charged with threatening to kill a Jewish classmate and forcing the other boy to kiss his feet in a video revealed in The Age.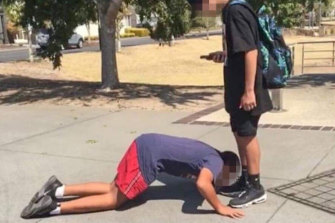 Dvir Abramovich, chairman of the Anti-Defamation Commission, has claimed a rising number of Jewish parents were pulling their children out of the state school system to avoid being targeted.
A report by the Executive Council of Australian Jewry found there were more than 350 incidents of anti-Semitism – including verbal and physical assaults – recorded by community groups last year, a 30 per cent increase on the previous year.
A state parliamentary committee is holding an inquiry into a possible expansion of the state's anti-vilification laws, including the banning of the swastika.
While the Holocaust is part of the curriculum in some Victorian schools, it is not taught in all of them and the state government believes the topic is often not taught as well as it could be.
"Anti-Semitism is on the rise around the globe and sadly we are not immune in our own Victorian community," Mr Merlino said.
"It is vital that each generation understands the horror of the Holocaust to ensure it can never be repeated and to educate the community on the damage caused by anti-Semitism, racism and prejudice.
Loading
"This is about using this terrible historical event to talk to students and educate them about the broader issues of racism and prejudice in our society."
New teaching resources will be developed by the state government who will partner with Victoria's Jewish community and the philanthropic group founded by shopping centre mogul John Gandel, owner of Chadstone shopping centre.
The new curriculum will be based on adaptations of existing Yad Vashem teaching resources and lesson plans produced by the World Holocaust Memorial Centre in Jerusalem.
Existing teaching resources will be reviewed to ensure they are adequate.
Loading
Mr Abramovich, who has long advocated for mandatory Holocaust education, said understanding of the Holocaust was "worryingly low".
"Studying the Holocaust will make the next generations of students appreciate how unchecked racism, scapegoating and stereotyping can result in horrific acts of murder, and how through their individual choices as responsible, engaged citizens they can build a society of acceptance, empathy and compassion," he said.
Paul is a reporter for The Age.