Mr Babidge would not say by how much sales were exceeding expectations for the first two months of the year.
"But clearly the fact that we've called out that it's above expectations, it obviously is meaningful to us at this point in time. But what we're also saying is it's clearly very difficult as we speak today to determine whether that trend will continue, or be offset in months to come.
"And therefore we've said look it's hard to say whether the impact of the virus will be either positive or negative to our half results," he said.
In a statement to the NZ and Australian stock exchanges a2 said that "given the essential nature of our products for many Chinese families, demand is strong, particularly through online and reseller channels".
Shares in a2Milk jumped sharply in early trade on the Australian market and were up 8.8 per cent to $16.32 at 10.25am.
The company said the emergence of coronavirus was a "dynamic situation and at this stage we are unable to quantify the impact, either positively or negatively, for the full year".
The fast growing dairy and infant formula company revealed the coronavirus-fuelled demand as it unveiled a 21.1 per cent jump in its first half net profit to $NZ184.9 million ($177.2 million).
A key driver of the result was a doubling in sales of China label infant formula products to $NZ146.7 million. Total revenue from China and other Asian regions also surged, by 76.7 per cent to $NZ317.2 million.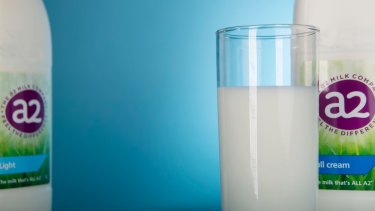 "We're delighted with the growth in our China business, a doubling of our China label sales compared to the prior period," Mr Babidge told The Age and The Sydney Morning Herald.
"That's as a result of a substantial uplift in capability in the size of the organisation, a strong focus on growing the mother and baby store footprint, the number of stores, obviously a result of increasing marketing activity.
"And also an outcome of the work done during the last 12 months in better understanding the consumers and their particular needs. And the best way to position our brand to capitalise on the market opportunities," he said.
Mr Babidge returned to the CEO role late last year, after the unexpected departure of former CEO Jayne Hrdlicka.
The company, which is listed on both the New Zealand and Australian stock exchanges, also lifted its results in other markets and categories, with infant nutrition sales in Australia up 9.5 per cent to $NZ352 million.
Total revenue for the group rose almost 32 per cent, to $NZ806.7 million, which was ahead of market consensus of $NZ773 million. Most of the company's revenue was generated by sales in the infant nutrition category, which rose 33.1 per cent to $NZ659.2 million.
Underlying profit came in at $NZ188.19 million, ahead of expectations among Morgans analysts of a $NZ178 million result.
"We are pleased with the results of our strategy execution and continue to be energised about our key products, core markets and growth outlook," the company said.
"With the benefit of the comprehensive work undertaken during 2019 to enhance our understanding of the consumer and sales channels in our core markets, we have continued the increased levels of investment in marketing and capability to execute our growth plan," it said.
Away from the fast-growing China market a2 more than doubled its sales in the United States, reaching total sales of $28 million. The company has a goal of generating $US100 million of annualised sales in the US. Australia/New Zealand revenue rose 10 per cent to $NZ460.2 million.
In a note to clients Citi analyst Sam Teeger said a2's statutory net profit "beat" was "largely driven by stronger than expected sales growth (+32%) and EBITDA margins (about 33 per cent) which exceeded guidance".
"We see a2 returning to its roots of rewarding investors with consistent earnings upgrades and, while also factoring in upside risk to 2H20, we see the stock likely to react positively," he said.
Darren is the mining and agribusiness reporter for The Age and The Sydney Morning Herald.