Chief executive Brad Banducci told reporters additional cuts to executive bonuses were on the table for upper management following the increased figure, but would not specify an amount, saying the company was focused on remediating staff first.
"We do expect there to be additional consequences for management…we do expect it to impact collectively the group executive team's short term bonuses," he said.
"We just want to have clear heads and proper processes for how we do that once the dust settles."
Profit excluding significant items such as underpayments and discounting the impact of a new accounting standard matched analyst expectations at $1.36 billion for the half.
Sales were also in line with expectations, with Woolworths reporting $32.33 billion in revenue for the half. Comparable sales for the company's key food division were up 5.1 per cent, falling short of analyst expectations of 5.6 per cent growth.
Loading
Comparable sales growth for the second quarter of the first half was 3.8 per cent, just edging in above rival supermarket Coles' 3.6 per cent growth, the lowest margin of outperformance since the 2017 financial year.
Sales growth in the new year was muted, with total sales growth of just 3 per cent and comparable sales of just 2 per cent, a slowdown Mr Banducci partially attributed to lower traffic in stores aimed at Asian students due to fears over the coronavirus.
"We are starting to see a bit of softness there, though I wouldn't like to overplay it," he said.
The company said that at this stage it hadn't seen a material impact from the coronavirus, which is spooking investors globally, but like many companies was keeping a watching brief. However, supply of hand sanitisers and wet wipes was lower in its supermarkets, Woolworths said.
Struggling department store Big W was a bright spot in the results, posting its first profit growth since 2016 with $50 million in earnings before interest and tax and comparable sales up 3.2 per cent as the company picked better product ranges and kept prices low.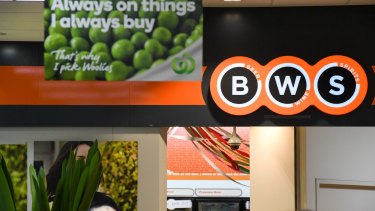 Comparable sales at Woolies' soon to be demerged Endeavour Drinks division grew 1.7 per cent and EBIT increased 6.7 per cent to $338 million, largely driven by growth in the company's own-brand liquor division Pinnacle.
Costs of $51 million relating to Endeavour's demerger were also booked, and Mr Banducci said the company was aiming for a demerger in either June to July or August to November, but noted the company was still open to a potential trade sale of the company.
Underpayment amount could increase
Final calculations of Woolworths' underpayments will involve a "substantial volume of data", Mr Banducci said, acknowledging the total underpayment provision could change further in the future.
"Determining the historical payment shortfall requires consideration of numerous clauses of the [general retail award], which translates into over 2,000 decision rules for the purposes of the group's analysis, across each year, for every current and former team member," he said.
"Changes to any of these variables have the potential to result in a future adjustment to the provision in subsequent periods as analysis and work continues."
Woolworths announced an interim dividend of 46¢ a share, up from 45¢ in the prior corresponding half, payable April 9.
Dominic Powell writes about the retail industry for the Sydney Morning Herald and The Age.