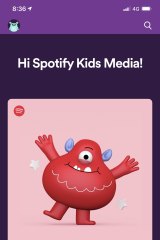 To take advantage of the new app, you'll need a Spotify Premium Family account, which is only $5 a month on top of a standard Premium account, and gives you access for up to six separate user accounts. While this all sounds fair, and I understand music licensing is notoriously painful, it really limits the functionality of Spotify Kids.
As a Netflix subscriber, I can create a profile for my daughter separate from mine, without the need for a family account. This ensures she sees age-appropriate material as she browses the interface, and our viewing history doesn't affect each other's recommendations – I'm never recommended Peppa Pig and she doesn't see Making a Murderer. YouTube Kids is available without a paid subscription at all, and still gives parents access to user controls, although I would never let my children browse YouTube unattended, even in the kid friendly app.
If you're in a two-parent home, Spotify Premium Family is a fantastic deal, and Spotify kids is a welcome addition. Any Family subscriber with kids should try it immediately, and I would even suggest parents use one of their available six accounts to start afresh without the Wiggles polluting their account. I've tried for months to purge mine, but somehow those skivvies always come back.
But the app should be available to any Spotify Premium user, for all the single parents out there. Families come in all shapes and sizes, and a Spotify Family account should not be necessary to keep the kids entertained