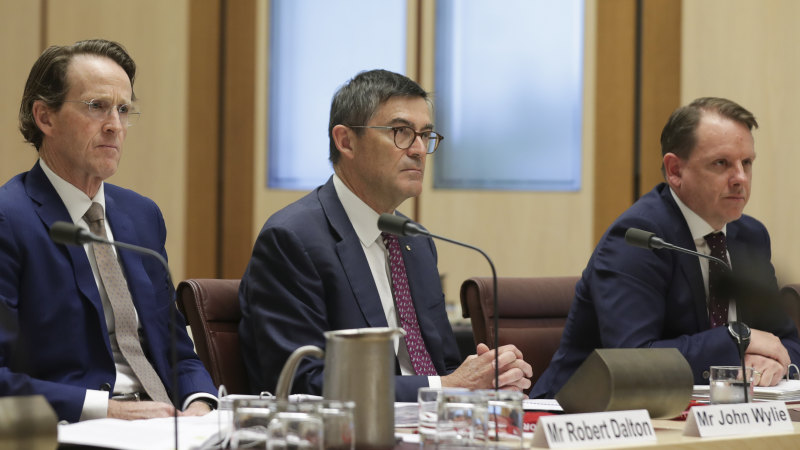 Mr McCann added Sport Australia had no knowledge of any exchanges between the offices of the Prime Minister and Senator McKenzie, who ultimately decided which applications were successful.
Loading
Mr Morrison said on Wednesday his office had merely made representations to Senator McKenzie's office about which projects deserved funding.
The last round of funding under the program was approved by Senator McKenzie's office after Parliament had been prorogued for the 2019 election, Mr McCann told the committee.
"In relation to when we received the advice for round three – 8.46am on the 11th of April via email from the minister's office," Mr McCann said.
Governor-General Peter Cosgrove had prorogued Parliament at 8.29am that day on Mr Morrison's advice, putting the government into caretaker mode. In caretaker mode, the government continues "ordinary matters of administration" but avoids making major policy decisions, significant appointments and entering into major contracts.
Labor senator and committee member Katy Gallagher said: "I think there are some more questions there because I don't know how all of that adds up."
In response to questioning from Greens senator Janet Rice, Mr McCann said a group of projects were awarded funding even though their applications were submitted after the program deadline had passed.
"The minister's office requested that they be considered," Mr McCann said, adding Senator McKenzie's office had not provided reasons for its request. "Sport Australia assessed those applications under the eligibility criteria … they were not recommended by Sport Australia but they were ultimately funded in round three."
Those applications were from the Katanning Country Club in Western Australia, Westbury Bowling Club in Tasmania, Belgrave Reserve Netball Court in Victoria, Yeppoon Swans AFL Club in Queensland, Nagambie Foreshore Walk in Victoria, and the Pennant Hills AFL Club in NSW.
Loading
Sport Australia twice raised concerns with Senator McKenzie about her office making decisions that were different from its own merit-based assessment of projects, including in an email on March 5, 2019 about the additional projects.
Senator McKenzie's office provided reasons for ultimately approving funding for the six projects, including that state governments had said they would contribute funding if the federal government also put in money and the impact on the local community.
Independent Tasmanian senator Jacqui Lambie again called on the government to release the report by Phil Gaetjens, secretary of the Department of Prime Minister and Cabinet, on the "sports rorts" saga.
"Why doesn't he just come out and be honest? We've already got a trust deficit with the Australian people. For goodness sake, it has got to stop," Senator Lambie told ABC radio.
She said she was not "real keen on moving" on the government's "union-busting" Ensuring Integrity Bill unless Mr Morrison released the Gaetjens report.
Nick is a journalist for The Sydney Morning Herald.