Loading
La Trobe vice-chancellor John Dewar said the university had organised personalised study plans for every student stuck in China.
"Looking further ahead, assuming that the travel ban is lifted or modified at some point – who knows when that will be – we will be offering financial assistance to students who have been affected by the ban to cover costs of travel and other expenses," he said.
"Then we will be offering fee waivers for students who have taken the option of studying online. Some students might decide just to defer. And we'll help them work through that as well."
In China, the spread of coronavirus cases outside the hub of Hubei province has lessened, however, its impact in other countries has grown with 81,397 cases worldwide, of which almost 31,000 have recovered.
Victoria has seen seven cases, including three from the Diamond Princess cruise ship. The other four people have recovered.
A national security committee is expected to extend the blanket travel ban beyond February 29, although the federal government is considering an exemption for university students similar to the one announced for high school students over the weekend.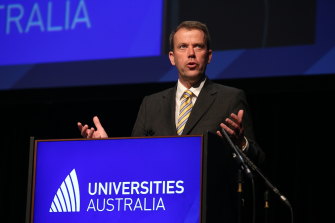 About 13,000 Chinese students have entered Australia via a third country since the travel ban came into effect on February 1, according to government figures.
Many have spent their 14-day isolation period in Asian countries such as Thailand, Malaysia and Cambodia.
La Trobe's $2000 grant will be available to students whether they start in semester one or defer to semester two, while the 20 per cent fee discount "is to assist with extra costs faced when studying in China, such as additional IT requirements".
Normally students must pay a fee if they withdraw after their university's census date in late March, however La Trobe will waive this for affected students.
Melbourne University has also given its affected students flexibility ahead of the semester beginning next week, including online courses and an allowance to miss up to four weeks of class.
In January Monash University delayed the start of its semester by a week and instructed students to stay off campus for a further week, meaning they will not return until March 16.
Australian vice-chancellors, including Monash vice-chancellor Margaret Gardner, remain defiant against concerns over financial reliance on Chinese students, on Wednesday saying "internationalisation and a strategy around that is key to what we do".
Loading
Education Minister Dan Tehan also deflected questions on an over-reliance on Chinese students, backing universities to "have contingencies in place to deal with that".
Mr Dewar from La Trobe University pointed out that "the major effect is really concentrated on a fairly small number [of universities]", with about 70,000 of Chinese students stuck overseas belonging to the Group of Eight research universities.
"So it's not the whole sector that's greatly exposed," Mr Dewar said.
Loading
"But in terms of the longer-term effect, we just have to see how long it goes on for. That's the critical thing."
Australia's peak international student body previously suggested that Australia's handling of coronavirus has damaged the international reputation of its $38 billion education industry.
Michael is a reporter for The Age.
Fergus Hunter is an education and communications reporter for The Sydney Morning Herald and The Age.