Discovering CTE in Australian Rules is no surprise. These are the words used by the director of the Australian Sports Brain Bank, Associate Professor Michael Buckland, when asked by reporters for his reaction to diagnosing CTE in Farmer's brain: "It's a contact sport and we've found it just about every other contact sport in the world … So it's no surprise."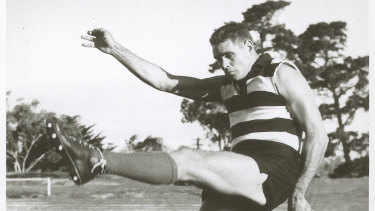 Indeed, Buckland has been responsible for reporting two other cases of CTE in Australia – League players Peter Moscatt from the Roosters and former Canterbury great Steve Folkes.
Just 15 years ago there were just 42 known cases of CTE in the world. Now there are more than 500. But diagnosis of CTE requires an autopsy and how many dead players get their brains examined?
At the launch of the Sports Brain Bank in March 2018 Buckland pointed out that in all the years he has been a forensic examiner for the NSW State coroner and a neuropathologist for the Royal Prince Alfred Hospital he'd examined over a thousand brains but had not once seen CTE. That wasn't proof CTE didn't exist but because he'd "never looked for it".
That's what the Sports Brain Bank is now doing. They're examining the known "at risk" groups of former player, and now they have more than 250 brain pledges in the vault. Gillon McLachlan could take a bold step and pledge his, so becoming ticket holder number 251.
Another learning: CTE could be hiding in plain sight. Farmer's initial diagnosis was Alzheimer's. This was the same diagnosis provided to Australia's first-ever case of CTE Manly rugby great, Barry "Tizza" Taylor in 2013. So the question must be posed: how many cases of CTE might be hidden among the Alzheimer's? Buckland thinks it could be a few.
A clue might lie in the world's largest-ever study into health outcomes for former professional footballers. Researchers examined thousands of death certificates and found that the ex-football players had rates of dementia such as Alzheimer's three and a half times higher than expected.
That's instructive because like CTE, Alzheimer's can only be definitively diagnosed at autopsy.
The AFL recently announced a crackdown on return to play after a concussion to make them even "more conservative" This is excellent news. But – and it's a big but – no one knows if the concussion protocol actually protects players from CTE or other long-term problems.
As to why last year's concussion protocol was not conservative enough is an unexplained learning possibly best explained by lawyers. Buckland and his scientific collaborators wrote CTE is an "occupational" and "public health issue" for those playing collision sports.
Loading
"That [CTE] exists at all should serve as a call to action to recognise and research CTE and the very clear association with a repetitive head injury, " they wrote. The learning here is that the AFL should now publicly state CTE is a risk to those playing the game.
The Australian Sports Brain Bank runs on the whiff of an oily rag yet sits in the eye of the biggest perfect storm in our multibillion-dollar contact sports. The question is: how many others are there? The answer to that is we can't know until we look. These are the learnings.
Wendy Carlisle is a former ABC investigative journalist now working on a book about football and concussion.