With the exception of the Gladstone Power Station, which the Goss government sold to Comalco in 1994, Queensland stayed in, continuing to build coal-fired power stations into the early 2000s and to own them today. The newest of those generators, Tarong North, opened in 2003. It's part of a fleet of robust, state-owned coal-fired plants that have the capacity to keep operating – and pumping out carbon – until the 2030s and 2040s.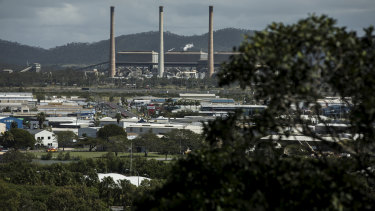 We live in the highest-emitting state of one of the highest per capita carbon-emitting countries in the world. Queensland's per capita emissions are 32 metric tonnes, compared with an Australian average of 15 tonnes, 6 for Europe and 7.5 for China. Half of Queensland's carbon emissions come from power stations.
The Palaszczuk government won the 2015 election with a target to generate 50 per cent of Queensland's power from renewable sources by 2030.
Getting there is incredibly hard.
To give the government its due, progress has been made. Queensland has seen a solar boom, with 2000MW of new, large-scale solar projects now operating or committed, and a whopping 11,500MW proposed. A new government-Owned Corporation, CleanCo, has been created, new gas tenures have been opened up, and power prices have stabilised, albeit partly because the $770 million cost of subsidising rooftop solar feed-in tariffs has been shifted from electricity prices to the budget proper.
On the last consolidated national figures – mid 2019 – Queensland has almost 14,000MW of installed electricity generation, 8000 coal-fired (5500MW of which is government owned). We have 3500MW of gas, 700 in large-scale solar (a figure rapidly going up as the 1200 committed comes online), and the rest in bits and bobs of wind, pumped hydro and biomass.
Renewables are intermittent, so only 10-15 per cent of the grid power we use is actually coming from them. That's the lowest renewable energy take-up in the national market.
If Queensland is to meet the 50 per cent target, this mix must change. We'll need more renewables, backed up by batteries, gas or other options. The state-owned generators will have to be wound right back. That won't be cheap in either power prices or the cost to the state's  balance sheet.
The generators are worth $3 billion on the government's books. With the state government already holding $72 billion in debt (projected to grow to $84 billion by 2021-22) and ratings agencies breathing down Treasury's neck, unilaterally shutting the generators down would plunge the state into a new debt crisis.
While the state government has done what it can so far – promoting solar and maintaining pressure on the federal government to develop an energy policy – the Queensland LNP is nowhere to be seen.
Its leader, Deb Frecklington, says the words "renewable energy" and "climate change" but opposes the renewable target. Her federal colleagues are considering more coal in Queensland, with the Morrison government committing taxpayer funds to a feasibility study for a north Queensland coal-fired power station championed by federal MP George Christensen.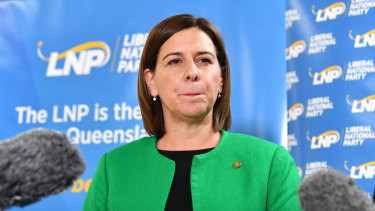 The state energy minister, Anthony Lynham, says he's confident Queensland will meet its target but it's not legislated (as it is in Victoria, which is also aiming for 50 per cent by 2030) and there is no published pathway.
The diabolical dilemma for both Mr Lynham and the Treasurer is that setting a roadmap is full of risk when the Commonwealth, which has overarching responsibility for both climate and energy, does not have a functioning energy policy.
While the climate debate so far has focused on Adani and coal emissions from exports, for which we are not responsible under international law, there have been no protests, no activists dressed as koalas, and no policy debates about these emissions – the ones every grid-connected Queenslander pumps out each time we turn on a light.
Loading
If we are serious about climate change, this issue is where the rubber hits the road in Queensland. Thinking Queenslanders could take pause, stop sharing photos of singed koalas for a moment and ask our leaders whether, or how, they intend to meet the renewable target. Or we could give up and save for a household battery.
Rachel Nolan is executive chair of the McKell Institute Queensland, an independent progressive public policy think-tank focused on economic policy. She was finance minister in a Queensland Labor government.
Former minister in the Bligh government