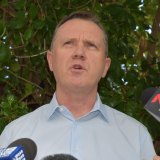 He died in the early hours of Sunday morning at Sir Charles Gairdner Hospital.
"It's a very sad wake up call," Dr Miller said.
"Our sympathies go out to his family."
The AMA WA president said far from having a "she'll be okay" attitude, Australians needed to prepare "very seriously" for a potential coronavirus outbreak, and said people need to have a plan and to think about those who were most vulnerable around them.
"The likelihood is once you have this disease it follows the course," Dr Miller said.
"What we're seeing is that it can be quite mild for the first week or so, and then [patients] go downhill from there, especially for people aged over 65 or 70 who seem to be the ones getting most sick from it.
Loading
"We know that in China there's been thousands of healthcare workers, despite the best personal protective equipment – the masks and so on being deployed very early there – we know there are thousands of them who have got this disease, and sadly some of them have succumbed to it.
"Anyone who cares for these patients needs to have the best equipment and the best facilities available to them to avoid higher risk than is necessary."
Dr Miller said professionals in general practice were feeling "particularly vulnerable" at the moment, with GPs not having the "proper equipment yet to fully deal with any number of patients turning up with this disease".
And with WA hospitals already at breaking point, according to Dr Miller, there was a need to triple the state's emergency department capacity.
"We probably haven't seen a virus like this particular one since about 1918," he said.
"We are not worried about the identified cases, the ones being looked after at the moment. It's the ones that might pop up in the community who have been travelling, like it happened in Queensland where someone came back from Iran, had no symptoms at the time they arrived, and now we possibly have some escape of the virus into the community because of that.
"That's the way it's likely to pop up in West Australia.
Loading
"It's likely it'll be someone who has come from a country where they don't know necessarily they have been exposed to the virus, they have no symptoms, they go about their business and that's where it's going to pop up eventually.
"We need to understand what's the next wave and how is it going to be complemented with setting up dedicated facilities. If we see lots of patients present, they can't be going to general practice and turning up in large numbers, they need to be going to fever clinics."
Dr Miller said he had concerns that a coronavirus outbreak could hit WA at the same time as the usual flu season and that this would "complicate matters" when it came to diagnosing the virus.
He suggested people prepare to get vaccinated for influenza, even if they had never done so previously, with a specific vaccine for coronavirus likely to still be "months away".
Lauren is a casual reporter and producer for WAtoday.
Kate is the deputy editor of WAtoday.