Once limited to expensive pro cameras, ultra-wide angles are now achievable on many new phones including the iPhone 11 range, Samsung Galaxy S10 and newer, and Huawei P30. Access them by zooming out to 0.5, allowing you to see more of the scene when you can't back up any further.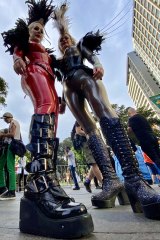 My favourite new photo trick involves resting a phone on the ground face down and taking a snap of someone putting their foot towards the lens. Also, getting someone to point at the camera can give an excellent Phoenix Wright: Ace Attorney effect.
If there's a lot going on in a scene and you're not sure what to hone in on, there are a few methods to ensure you don't miss the right frame. Most phones allow you to capture photos while you're shooting video (and vice-versa), so you don't have to choose. On iPhone 11, just hold your finger on the shutter button and it will switch to video (just like in the Instagram app). To maintain that function, move your finger to the picture of the lock on the right.
This method previously activated burst mode – another way to take multiple photos very quickly.
You now trigger this on iPhone 11 by moving you finger to the left as soon as you tap the shutter button.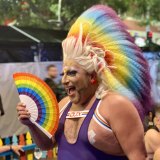 Live Photo Mode on iPhone (titled differently elsewhere) takes a 1.5-second video either side of a still, giving you both a cool effect for socials and a chance to pick the best frame for the main image afterwards.
While a digital zoom seems to add convenience, it is in fact your enemy! Some phones (the Samsung S20 Ultra, for example) sport a pretty spectacular digital zoom, but most just produce blurry shots. Sometimes it's unavoidable but try to stick to the bounds of your phone's optical lens – typically 0.5x, 1x and 2x.
Finally, battery management is key. On the day of Mardi Gras I used 180 per cent of my battery – eight hours of GPS, games and music, followed by eight hours of photos and videos, and subsequent posting to socials. Definitely bring a battery pack or battery case (some of which feature physical shutter buttons in handy places) so you don't get caught out.