The "defenceless" woman, who was just 150 centimetres tall, fell to the ground and was declared dead shortly after.
A guest confronted him after the stabbing and Wardlaw told him: "I had to do it. You've got to help me".
The killer fled the scene and was found 200 metres away, hiding in a drain.
"Regrettably, this was a spontaneous and intense act which appears to have been drug induced," Supreme Court Justice Rita Incerti said on Monday, while sentencing him to 22 years in jail for the murder.
Wardlaw had been using ice, believed a drone was following him and was "wigging out" before the killing.
Blood tests taken after the incident found he had methamphetamine, amphetamine and diazepam in his system.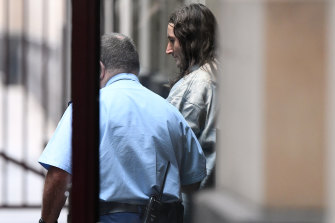 Justice Incerti found Wardlaw was in a drug-induced psychosis at the time he killed the grandmother which left him paranoid, hyper-vigilant and having persecutory delusions.
She also took into account the 40-year-old's underlying mental health issues. His actions had nevertheless had a devastating impact on Ms Ashcroft's family.
"They have been profoundly affected by your actions. They have lost a loving mother, grandmother, sister, daughter and friend," Justice Incerti said.
Ms Ashcroft's sister said outside court the family "got the justice we need for my sister".
"I'm glad it's all over. We can move on now and remember all the good things instead of the bad," she told Channel Nine.
Wardlaw was found guilty of murder in October last year in Melbourne after three juries were discharged in Ballarat.
He must serve at least 17 years before he is eligible for parole.