"CDC does not recommend that people who are well wear a facemask to protect themselves from respiratory diseases, including COVID-19," the CDC says.
"Facemasks should be used by people who show symptoms of COVID-19 to help prevent the spread of the disease to others."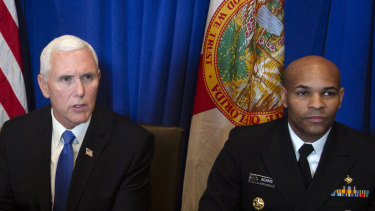 The CDC recommendations add that "the use of facemasks is also crucial for health workers and people who are taking care of someone in close settings".
Health and Human Services Secretary Alex Azar said last week that the US has a stockpile of 30 million N95 masks but needs at least 270 million more for health care workers alone to prepare for a more widespread outbreak.
Loading
For the rest of us, the CDC says we should avoid close contact with people who are sick; avoid touching our eyes, nose, and mouth; stay home when we are sick; and cover your cough or sneeze with a tissue, then throw the tissue in the trash.
More than 70 cases of the virus have been confirmed in the US, including one death.
Globally, more than 86,000 cases have been confirmed, the vast majority of them in China.
Almost 3000 people have died, more than 2800 of them in China.