An initial boost in sales thanks to the Australian bushfires was overshadowed by demand that flowed through globally when news of coronavirus spread. The rapid growth has meant the company must suddenly make tough decisions about who it sells to.
"It was quite drastic, and we had retailers and distributors just coming out of the woodwork," Scarf says.
The idea for Tecmask was born when the Scarf and her father travelled to Japan in 2012 and were puzzled by the boring designs of surgical facemasks regularly warn in Tokyo, the nation's fashion capital.
Three years on the company launched a series of masks with floral designs into the Japanese market, finally making these available to Australian and New Zealand consumers in 2018.
Scarf won't reveal exactly how much stock remains in Tecmask's Australian warehouse, though the company is working through its last production run of stock.
The business is currently placing strict limits on what retailers including Priceline and Amcal Pharmacies can buy from it. Tecmask has previously manufactured stock in China but was researching other manufacturing locations for its future production runs just before coronavirus broke.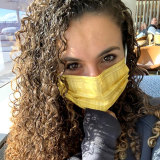 "Moving forward, we're exploring other manufacturing options," Scarf says.
The company's order growth in 2020 is now sitting at 8000 per cent.
A quick scan of the Tecmask website reveals most colours and styles of the products are already sold out from its online store. Scarf says the company is turning to other yet-to-be-revealed hygiene products as she moves to diversify the business.
"This has really brought general hygiene to the forefront."
The rise in interest in disposable masks globally comes as other hygiene-related products like hand sanitiser fly off the shelves amid the spread of the virus.
The World Health Organisation (WHO) has advised that if you are healthy, wearing of masks is only required if taking care of a person with a suspected case of coronavirus, however. The best approach to preventing the spread of the virus is regular hand washing, the organisation has said.
Users must wash their hands before putting on the mask and avoid touching the front of them while in use, according to WHO guidance.
Emma is the small business reporter for The Age and Sydney Morning Herald based in Melbourne.