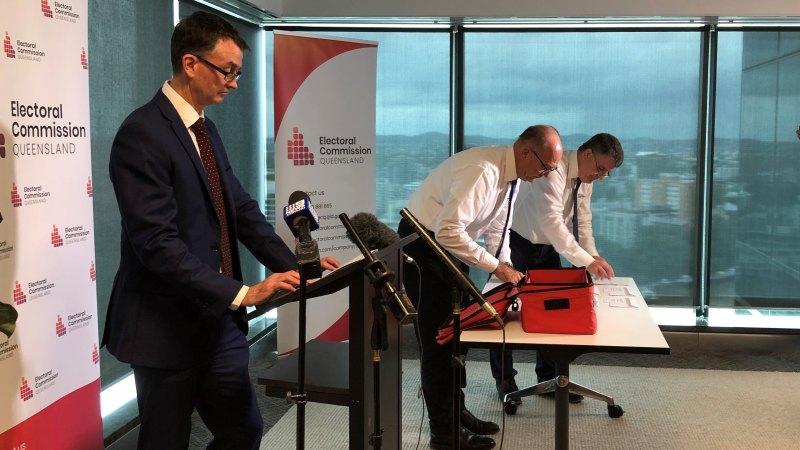 Incumbent lord mayor Adrian Schrinner drew number five, followed by independent Jarrod Wirth and then ALP candidate Pat Condren at number seven.
The ballot paper will be rounded out by the Motorists Party's Jeff Hodges, and independent Ben Gorringe.
Brisbane lord mayor ballot draw
Karagh-Mae Kelly – Animal Justice Party
John Dobinson – independent
Kath Angus – Greens
Frank Jordan – independent
Adrian Schrinner – LNP
Jarrod Wirth – independent
Pat Condren – ALP
Jeff Hodges – Motorists Party
Ben Gorringe – independent
Queensland University of Technology associate professor and former Labor Speaker John Mickel said having the draw "does matter" for politicians.
Professor Mickel said the process of the commissioner drawing unmarked envelopes from a case to randomise the ballot draw began as an effort to level the playing field.
"Historically, they used to put the candidates on alphabetical order, so if you have a name starting with A it would give you an advantage," Professor Mickel said.
He said in the past people even changed their name to ensure their ballot draw would be strong, benefiting them if some voters simply chose to vote down the paper rather than selecting a preferred candidate.
"It's not compulsory to vote, it's compulsory to show up. By that, I mean you've got to get there and get your name ticked off," Professor Mickel said.
"But there is a small percentage of people who are so disinterested they simply vote down the card, that voting down the card is called a donkey vote.
"So there is an argument, and there is some research, that it gives a small advantage to some people who are higher up the ballot paper."
Cr Schrinner said the people of Brisbane were facing an important choice on who to vote for on March 28.
"The LNP, Team Schrinner, will not be doing any preference deals with any party," he said.
Loading
"I don't read too much into these things, in that ballot paper there are a lot of different candidates but there is really only two main choices.
"A Team Schrinner focused on the future of Brisbane, or a Labor-Greens coalition through a preference deal which has no plans for Brisbane."
Labor's candidate, Mr Condren, said he hoped number seven would help him "weave some magic" on election day.
"A man that Adrian Schrinner voted for was a bloke called Jim Soorley. He came from the clergy and he took over Brisbane City Council [as Labor lord mayor from 1991 to 2003] and he did some wonderful reformative things for this council," Mr Condren said.
"Riverfire, ferries, outdoor dining, and [he] turned Brisbane into the wonderful city that it is today. So I'm 100 per cent ready."
Lucy is the urban affairs reporter for the Brisbane Times, with a special interest in Brisbane City Council.