Bridge underpasses were flooded, including at South Melbourne and Docklands, as were subways at Caulfield and Burnley stations. Sections of the left-hand lane of the Monash Freeway were also affected, causing two inbound lanes to be closed after a crash.
The hefty downpour means Melbourne has now received as much rain in just over two months this year as it did in the first six months of last year.
Due to the flooding, buses replaced trains between Heidelberg and Clifton Hill and between Sandringham and Elsternwick. Commuters at Mentone and Burnley were also advised to seek alternative routes to work after the stations became inaccessible.
Richmond Station, a key hub joining several train lines, lost power during the deluge, turning train indicator screens blank and disabling the the public announcement system and Myki machines.
On one heavily-delayed service on the Hurstbridge line, a train driver asked trivia questions over the loudspeaker.
Consistent with the tropical rain, the temperature did not drop below 17 degrees until 6am this morning, as humidity levels hovered close to 100 per cent.
Just after 7am, there were about 65 incidents on the roads in metropolitan Melbourne, including almost 15 crashes and more than a dozen flooded roads.
Other parts of the city – clustered in the north-east and south-east – were lashed by more rain than than they would usually receive for the whole of March.
Melbourne Airport received more than 65mm of rain in the past 24 hours and Moorabbin Airport saw more than 50mm.
The heaviest falls were in the state's north-east, where the Bureau of Meteorology had forecast heavy rains.
The downpour was brought by a trough caused by ex-tropical cyclone Esther, which was expected to move south and bring heavy rain to the east of the state, but was not expected to hit Melbourne.
"Usually the ex-tropical cyclones don't make it this far south – they move to the east or die off, but this one has moved down to the south-east, that's why we're getting tropical moisture and humidity," BOM duty forecaster Miriam Bradbury said.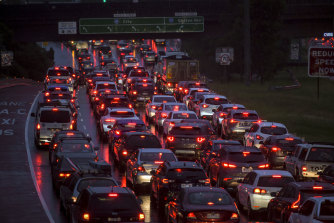 In Mount Buffalo, near Falls Creek, more than 132mm of rain fell in 24 hours.
Flooded roads included: the West Gate Freeway near the Williamstown Road exit, Punt Road near the Monash Freeway entrance, Stud Road at Dandenong, Heidelberg Road at Fairfield, Warrigal Road and Huntingdale Road at Oakleigh South, Montague Street under the Westgate Freeway, Dynon Road at Kensington, Evans Road at Lynbrook, Kings Road at Sydenham, Boundary Road at Dingley Village and the Hume Freeway at Mangalore.
Paul is a reporter for The Age.