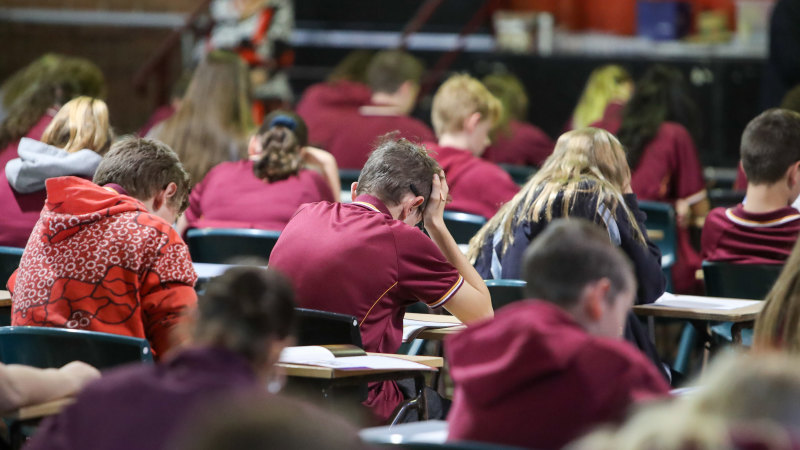 Education Minister James Merlino said it was important to celebrate students who are making progress in their learning, not just those who achieve the best results. But he said Victorian year 9 students were underachieving in NAPLAN.
"We know Victorian primary school and year 7 students are doing well in NAPLAN, but unfortunately, the most recent year 9 results don't reflect what these students are truly capable of," he said.
"The resounding message we are hearing from teachers and principals is that by year 9, students have done the test three times and don't see it as useful or relevant. These certificates will help encourage students to engage with the test and show us what they can do."
Mr Merlino has also said students could use the certificates when applying for jobs.
Last year 4.4 per cent of Victorian year 9 boys and 5.9 per cent of year 9 girls were in band 10 for reading; 1.9 per cent of year 9 boys and 4.2 per cent of year 9 girls were in band 10 for writing; and 10.2 per cent of year 9 boys and 5.7 per cent of year 9 girls were in band 10 for numeracy.
Dr Peter Goss, school education expert at the Grattan Institute, said the certificates were "far from the only thing that is needed" to get year 9 students more interested in NAPLAN, but were an instant, cost-effective step in the right direction.
Loading
"This probably won't motivate many kids to spend their evenings and weekends studying for the NAPLAN test, but that isn't the point," he said.
"Every year 9 has to sit down for an hour or two to take the NAPLAN test. When they're in that room, they have a choice as to how seriously they take it.
"If the opportunity for recognition is there they may just decide, 'I'm going to take this test a little more seriously and show them what I know.' "
Sue Bell, president of the Victorian Association of State Secondary Principals, said year 9 students who performed poorly in year 7 would often view NAPLAN as a "symbol of their struggle".
"To start acknowledging growth, through things like teacher intervention and the students' hard work, was important for principals," Ms Bell said.
"Then it's up to schools to make it a big deal, to sell it to students and celebrate it."
Adam Carey is Education Editor. He joined The Age in 2007 and has previously covered state politics, transport, general news, the arts and food.
Michael is a reporter for The Age.