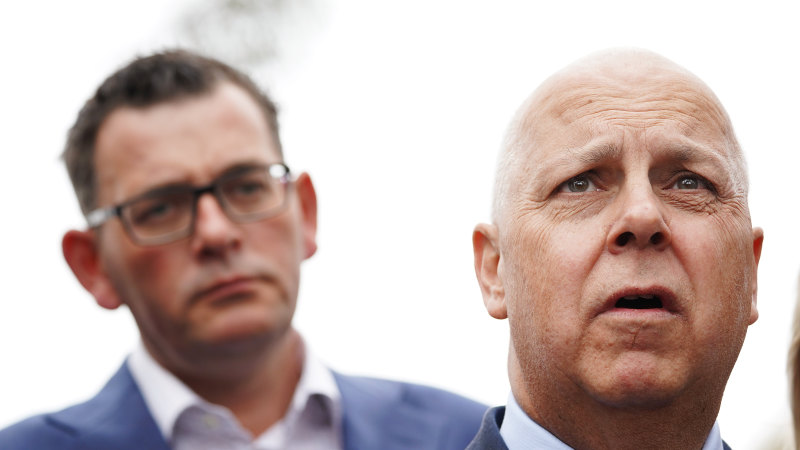 But the state government says it is not resigned to the prospect of a technical recession, arguing the Victorian economy is the strongest among all the Australian states.
Treasurer Tim Pallas, who has previously used state final demand figures to trumpet Labor's economic management, said on Thursday that too much could be read into the latest result.
"These numbers bounce around quite a bit, and we've seen important, indeed variable, numbers right across the states in yesterday's national accounts figures," Mr Pallas said.
"What I can say is that we've had some pretty solid figures over the last month or two, relating to employment growth, and a number of other demonstrations of the economy still [being] fundamentally quite sound.
"That is not to suggest that we don't have some difficult times ahead – we do."
Asked if he was resigned to the prospect of a technical recession, Mr Pallas said "No, not at all".
"I think it's counterproductive for people to speculate about that because there's certainly no indication that that's where we're heading … because nobody knows exactly how long the impact of coronavirus will be," the Treasurer said.
"What we can say is the state of Victoria is the strongest economy in the nation as well prepared to deal with these issues, and we will be delivering a surplus."
On Thursday, the federal government imposed a ban on visitors from South Korea and enhanced screening measures for travellers from Italy.
Loading
Premier Daniel Andrews said any decline in tourist numbers "hurts us all – it hurts the budget, it hurts businesses, families". He said he expected there to be a significant impact on the Victorian economy from coronavirus.
The Victorian government is in talks with federal Treasurer Josh Frydenberg about securing funds from a stimulus package the Commonwealth is preparing to protect the economy from the coronavirus fallout.
The Premier said there were a range of projects that could be funded immediately to stimulate the economy, including maintenance works on roads, schools and hospitals.
"The best thing is to get on and do everything we can to promote investment and employment, so we're absolutely ready, and we're more than willing to be a partner in trying to do that," Mr Andrews said. "And if there's additional Commonwealth money, they can rest assured that we will deliver every single project.
"The stimulus is important, but beyond that, people need to be proportionate to the risk.
"There's no need to be deferring investments, there's no need to be overreacting to what are still uncertain circumstances."
With AAP
Noel Towell is State Political Editor for The Age
Sumeyya is a state political reporter for The Age.