A man has been Tasered and arrested following a dispute that ended in an alleged assault over toilet paper in a department store in Tamworth on Thursday.
"Just after 10am police have been told a 50 year old man began to argue with a staff member and another customer before he [allegedly] assaulted them at a department store in Bridge St," NSW Police said in a statement.
"Officers attended and during the man's arrest he was tasered."
The man is now at Tamworth Police Station where he is being interviewed.
The Northern Daily Leader reports the dispute related to toilet paper in the shop.
Baby boomers are being urged to avoid travelling overseas as mounting evidence suggests they are among the most likely age group to experience severe illness if they fall ill with coronavirus.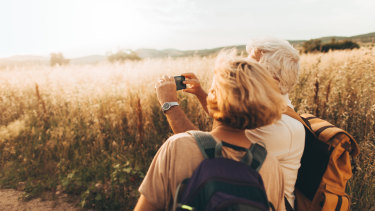 Global scientific literature is increasingly pointing to people aged 60 and over, especially those with underlying chronic illnesses such as heart or lung diseases, as being at the highest risk of critical illness and death from COVID-19.
Two more South Australians have contracted the coronavirus, one of them being a baby, AAP reports.
On Wednesday, SA Health said a 40-year-old woman who travelled from Iran tested positive to the illness.
One day later, her baby also tested positive.
The second case is a 58-year-old man who arrived in SA from Taiwan on March 3.
The wife of one of the employees at the law firm was the granddaughter of the 95-year-old woman who passed away after contracting COVID-19, an email has revealed.
"Your health and safety is our priority," it read.
"If you are in the Sydney office, we ask that you work from home for the remainder of the day and tomorrow (Friday) until we have a further update."
One staff member said she came back from lunch to read the email.
"The whole Sydney office was evacuated," she said.
"We all left and were told not to come back until further notice. I think our firm was a little panicked, once you realise its getting a bit close to home you're a bit 'oh my god'."
She said that staff weren't overly worried.
"We're a relatively healthy cohort of people, so I'm not hugely concerned.
The University of Sydney will use one of its Darlington student residences as temporary isolation accommodation for returning international students needing to self-isolate if the government travel ban is lifted.
The director of student support services, Mark Try, this week told students living in one student residence that they may soon need to relocate to alternative university accommodation, activating a seven day notice period.
"We are carefully planning for several scenarios, including a potential lift of the current travel restrictions," a university spokesperson said. The relocation measure would "allow for appropriate housing of any students that are booked into a University accommodation and need to self-isolate".
The self-contained studios at the chosen accommodation facility have been recommended by NSW Health as the most suitable for self-isolation.
If relocation were to proceed, the university would provide a removalist, students would receive a 60 per cent rent discount, and the period would be about eight weeks.
"We're aware that moving would be inconvenient and possibly distressing for some, and we thank any affected students for their cooperation and understanding," the spokesperson said.
"These students would be offered a reduced fee for any period of relocation, and we'd manage the costs and arrangements associated with any move."
Indonesia has reported two cases of coronavirus from a total of 372 tests administered (there have been 356 negatives and 14 results are pending).
The national government is belatedly expanding the number of labs allowed to conduct tests to ten new sites across the country, up from a single government lab in Jakarta.
The government is preparing a stimulus package to support the local economy, including the hard-hit tourism sector in Bali. Shoppers have been buying goods in bulk in Jakarta, with hand sanitiser rapidly selling out, and other popular items including staple foods such as rice, noodles, oil and even traditional medicines.
Singapore has 33 active cases, with seven of those people considered to be in a critical condition and 26 more in hospital. Another 78 patients have been discharged.
Visitors who have travelled to Iran, northern Italy and South Korea in the last 14 days will now not be allowed to enter or transit through Singapore and travellers to Singapore who display fever or other symptoms will be required to undergo swab tests at checkpoints.
In Thailand, 43 people have been infected and 30 people have recovered. The government is preparing a stimulus package to support the local economy.
People been arrested for spreading fake news online about the virus and in separate cases, arrests have been made of people selling masks at inflated prices, and which have been used. Noodles, rice, tinned fish and drinking water are flying off the shelves in supermarkets.
Malaysia has reported 50 positive cases, including 14 new cases on Wednesday and seven on Tuesday. These new cases came after several days in which no new cases were reported.
There have been 1933 negative tests so far and the results for 138 tests are still pending.
The Philippines has three confirmed positive cases of the virus, while 579 people have tested negative and 32 tests results are pending.
Myanmar's Health Ministry reports it has zero confirmed cases, with two people "suspected" of having the disease and the lab test results of seven people pending and 49 people having tested negative.
Thanks to coronavirus panic-buying, Coles has now joined Woolworths in limiting the number of toilet paper packs customers can buy to four per person, applying both in-store and online.
A spokesperson for the company said it would help Coles maintain its stock levels in-store, as supermarkets across the country have been slammed by unprecedented consumer demand for loo rolls.
Coles said it was still ramping up delivery to stores, and noted the vast majority of other products were still in stock.
"While there may be some temporary stock shortages, the vast majority of products in our stores and via Coles online remain available for customers," the spokesperson said.
"We apologise to customers if the product they want is currently out of stock, and our team is working hard to improve availability across the store."
A Macquarie University spokesperson has confirmed that none of the children who visited an aged care centre where residents were diagnosed with COVID-19 have presented with symptoms.
Despite multiple media reports that the centres had shut down while staff were tested for coronavirus, the spokesperson said the facilities remained open and caring for children.
"It has been brought to our attention that children at Macquarie University childcare centres Banksia and Gumnut recently visited the BaptistCare Aged Care facility in Macquarie Park," the spokesperson said.
"NSW Health has advised there is currently no need for either Banksia or Gumnut childcare centres to close and they will continue to operate as normal.
"At this stage no children from either childcare centre have presented with symptoms of COVID-19. The centres remain in close contact with parents and NSW Health regarding any recommended next steps."
Doctors are pleading with the federal government to release more protective face masks from the national medical stockpile, as supply shortages force some GPs to turn away patients suspected of having coronavirus.
A desperate GP practice manager in South Australia has closed its doors to Novel coronavirus (COVID-19) patients after running out of masks, saying in an email to the Royal Australian College of General Practitioners on Wednesday: "As of today, we cannot test anymore."
RACGP president Harry Nespolon called on Health Minister Greg Hunt to release masks from the national stockpile to ensure GPs could continue testing, as the pace of the virus spreads.
"They've got 20 million masks to be released in an emergency. When's an emergency? I'd say now," Dr Nespolon said.
"Doctors need 6.9 million masks a month."
Speaking with reporters just now, PM Scott Morrison said the national security committee has reviewed the progress of potential pandemic preparations, which involves "everything from availability of surgical masks and to working with the aged care sector."
Prime Minister Scott Morrison has announced a travel ban for South Korea.
"We will also put in place our enhanced screening measures to deal with those travellers that have come from Italy," he said.
"The cohort we are seeing coming from Italy as opposed to the Republic of Korea, we have about five times, just over that, the number of people coming from Korea than we do having come from Italy."
The two countries have had the largest surge in cases in the past week, with more than 8000 cases between them.
Travellers coming from Italy will have enhanced screening measures including mandatory questions at check-in, temperature checks, and health screenings at baggage halls.
"Anyone failing those checks will be denied approval to board," the Prime Minister said.
The Department of Foreign Affairs has also upgraded its travel advice for South Korea to "reconsider your need to travel".
Chief Medical Officer Brendan Murphy said the ban on South Korea, which has far greater numbers of travellers visiting Australia, would allow Border Force to screen travellers from Italy.
He suggested it would have been impractical for Border Force to be able to screen travellers from both countries. He said the health advice to cabinet's national security committee was that the two countries were the two highest risk outside of Iran and China.