Essendon list manager Adrian Dodoro said that club would take a long-term approach to Tom's development.
"We are really pleased to welcome Tom to the club as a Category B rookie signing," Dodoro said.
"Tom trained with our club in early 2019 after being granted permission to train in accordance with AFL rules.
"We have been following him closely in the event he chose to return to football from elite soccer and pleasingly for our club, he has come to that decision.
"He is an athletic young sportsman with natural talent, but we will be taking a patient approach with his development as he begins to build his strength.
"We're thrilled to have Tom join the red and black and watch him develop as a player over the coming years."
Hird has previously said Tom and his other two sons, Alex and William, were budding soccer players who were juniors at NPL Victoria side Port Melbourne.
Tom, the eldest of the three, had a trial at Stoke City three years ago and Hird said in September last year on an ABC podcast with Santo, Sam and Ed that his sons were "definitely going down the football route rather than the AFL route".
"He [Tom] did really well [in his trial with Stoke City]. But the fact they wanted him to go over there and stay there, at the time he was 15 going into year 10 I think, and there's no way – this child's going to come back and get his education," Hird said.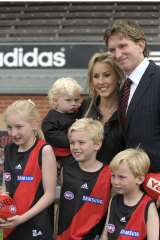 "They love their football, they're passionate about it, they train really hard, they play for hour after hour and they're definitely going down the football route rather than the AFL route.
"Our boys are playing at Port Melbourne at the moment in the NPL and they're having a great experience – great coaching. They're not the best team, they're not the worst team, but they get good coaching, looked after and if they're good enough, I'm sure there's way for them to find their way to the next level."
Tom's father James is not only one of the greatest players in the history of the Essendon Football Club, but also one of the all-time greats of Aussie rules.
He coached Essendon from the end of 2010 until 2014, when he was suspended over his role in the supplements program at the club. He returned to coach Essendon in 2015, but resigned in August of that year after a poor run of results.
Allan snr played 102 of his 154 VFL games for the Bombers, including the 1942 premiership, while Allan jnr played four matches in 1966-67.
Ronny Lerner is a Sports reporter for The Age.