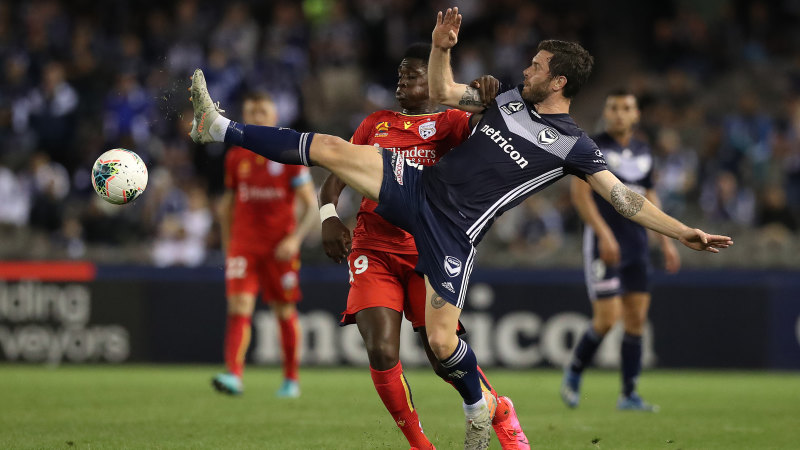 Loading
"I want to play the next seven games, first of all, that's my main target, and then we will see what happens."
Having watched more A-League games than he has played in, Hoogland has an upbeat view of the competition which is better than he thought it would be.
"It's really athletic. You have to run a lot. And I think the technique of the players is really good. So, I was a little bit surprised to be fair, about the level.
"It's not easy to compare them with the leagues in Europe, but I think everything is developing fast here. And from what I see is all the teams are really close to each other on the ladder, except Sydney. So, yeah, it's quite fun being here."
Loading
Sydney loom large. Carlos Salvachua's team were humbled 3-0 at AAMI Park the last time they met earlier this year, and if Victory are to make the finals three points are a must when the two clubs meet on Saturday at Marvel Stadium.
"There are a couple of reasons why they are on top of the league and that's our main target. We just have this game, the 90 minutes, and we have to win it," Hoogland said.
"I think their defensive and offensive work is really good. They are dominating a lot of games so far … but they have this winning mentality and it's good that we play against them to show everyone what we can do."
Hoogland believes that the chance to prepare fully with Salvachua and the lack of travel through Asia – Victory have not played an Asian Champions League game since their 1-0 loss in Seoul on February 18 – will make things much closer against Sydney this time.
"We will be well prepared. We have almost two weeks of full training with the team, no journeys through Asia, we will be well prepared and see a really good game."
The late win over Adelaide last weekend lifted spirits around the camp and brought back self-belief, the German says.
"Oh, that was so positive. That was really something we needed strongly. And I'm happy for Andy [Nabbout, whose late strike secured the win] as well, scoring such a beautiful goal because he missed two chances at the beginning of the game. Yeah, I think that gives a really big push for for all of us."
Michael Lynch is The Age's chief soccer reporter and also reports on motor sport and horseracing