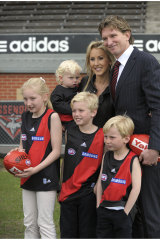 "James barely played, so he was drafted on ability and his family connections in part," Sheehan said.
"This kid [Tom] has got the bloodlines too, obviously, and you're not giving up too much to get him.
"James adapted quickly and had a great aptitude for operating in that professional environment. It looks like Tom does too with his soccer background."
Tom isn't as unsighted as such, he trained with Essendon in January. However he still hasn't been registered to play footy for at least three years. Now 19, he gave up on footy in his early teens to try soccer.
Like his father, Tom's selection as a category B rookie is somewhat a speculative one.
Having played with Port Melbourne Sharks he earned trials at Stoke City in the United Kingdom and more notably, Ajax, the Dutch club that is the pre-eminent breeding ground for junior soccer players.
Tom was given a senior contract with the Sharks this season after impressing with the club's under 20 side. Port Melbourne play in the NPL Victoria, which is one rung under the A-League.
"He's a natural sportsperson with anything he does," Port Melbourne coach Adam Piddick said. "His athletic ability to get around the park, the repeat sprint … he is a very smart kid so has good sense tactically.
"He was a left full back and central midfield type of player. He can play in pretty much any position because he can pick things up quickly though.
Loading
"He really enjoyed Ajax obviously – its world class facility and development program. After that experience over there I was a little bit surprised he made the switch, but understandably you can't knock these opportunities back.
"He's so coachable, a nice kid, doesn't give any attitude. It's head down and hard work. No matter what you ask him to do – pump the balls up or the extra running – he does it without whinging."
Sheehan says there are transferable skills between soccer and modern day Australian Rules outside of elite aerobic capacity. AFL recruiters like soccer players for their "two-footedness", goalkeeping skills, familiarity with defensive blocks, running patterns, ability to read cues from opposition and teammates and their intercepting qualities.
Tom joins other soccer converts to footy, of varying degrees of skill, which include Lachie Keeffe, Zac Smith, Mason Cox, Ellie Brush, Brianna Davey and most famously Brad Green, who was scouted by Manchester United.
Gary Ablett Snr was also known as a very good social player, while Irish players like Tadgh Kennelly are usually handy with the soccer ball.
Wayne Oswald saw Tom play at Prahran Juniors from age nine to 14. Oswald said Tom was very skilled, athletically gifted and tactically smart as a footy player. He played as a midfielder and medium forward.
"The parents of Tom have been excellent," Oswald said. "As a kid, he was well founded, mature, a good decision maker, popular in the club and made his choices by gaining good knowledge first.
"The greatness of this [decision to go back to footy] is that the parents said 'okay, if that's what you choose to do then go for it', when he chose to play soccer.
Anthony is a sports reporter at The Age.