"The number of women who have died of domestic violence far outweighs coronavirus at the moment," he said.
His reason for being there wasn't unlike Heather Gilmore's, who shared her six and eight-year-old daughters' experience of being at a women's rally for the first time, and hoped to impart a set of values on her children that could be summarised by the signs they were grasping: "Do not underestimate women" and "girls rule".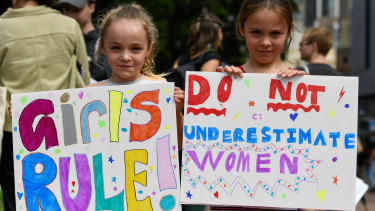 "Most importantly, I want these two girls to know and be proud of who they are," the Lewisham mother said, adding she believed the women's movement was at a "good juncture", citing initiatives such as mandatory pay gap reporting, and greater general awareness among men.
However she acknowledged a lot of younger women believed there was a long way to go.
"I'm glad they're angry," she said.
While the recent rape conviction of Hollywood producer Harvey Weinstein may have been used as a measure of progress, the deaths of Queensland mother Hannah Clarke and her three children in a car set alight by her estranged husband last month were emblematic of an ever-present scourge.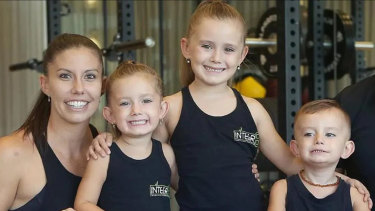 "The recent murder of Hannah and her children in Queensland prompted an outpouring of grief and a widespread condemnation of this terrible crime, as it should," Western Sydney domestic violence worker Sam Parker said before calling for a minute's silence.
"It is not, however, enough to state that domestic violence is unacceptable, and a scourge upon our community. We need more than words."
She said immediate action was required in the provision of affordable long-term housing options and well-resourced frontline domestic violence services, as well 10 days' paid domestic violence leave included in the national employment standards.
As the crowd started down Market St, 15-year-old Tanisa Chowdhury said she would be treating her first women's march as a historic moment.
"I'm expecting to make some noise," she told the Herald as the procession turned left down Castlereagh St and towards Belmore Park.
Seconds later another young woman in the crowd walked by holding a sign that read, "I'm with her".
Angus Thompson is an Urban Affairs reporter for The Sydney Morning Herald.