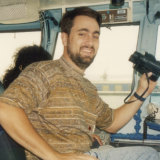 Ms Barbagallo has now moved on to asking Dr Whitaker about his involvement in the testing and review of Ciara's fingernail samples AJM40/42 (left thumbnail and middle fingernail) and AJM46/48 (right index and ring fingernails) in 2008.
Mr Edwards' DNA profile was detected in the AJM40/42 sample.
Dr Whitaker said he was one of the scientists who decided to combine the samples from each hand.
"The nature of such was they were just appearing as debris with no understanding of what, if any, biological material was on them at that time so the strategy going forward was about trying to maximise any DNA that was there in order to try get a DNA profile at the end of the process," he said.
He agreed with Ms Barbagallo that combining the two meant, if a result were returned, it would not be known if the DNA had been recovered from one, or both fingernails.
Ciara's left thumbnail was torn from when she allegedly scratched Mr Edwards in a fight for her life in March 1997.
Dr Whitaker is now being taken through the test results from AJM40/42.
He has explained that the DNA test carried out analysed 10 loci (or DNA strand sites), and gender.
Each person has a maximum of two alleles at each loci – one inherited from their mother, and one inherited from their father.
On review of Ciara's fingernail results, four alleles were noted at some loci sites, meaning it was a mix of two people's DNA profiles – Ciara's and Mr Edwards'.
Dr Whitaker noted the DNA profiles were degraded in a similar way, meaning "they'd been exposed to the same environmental conditions which effected the DNA in a similar way".
"DNA will gradually breakdown overtime, so it might be effected by UV light, it might be effected by humidity, by bacterial action, by chemicals produced if something decayed in that way."
Ciara's body was found in bushland in Eglinton on April 3, 1997 – 19 days after she appeared.
Mr Edwards' DNA taken from his Karrakatta rape victim was taken within hours of the attack through intimate swabs, and was stored in the lab freezer when not undergoing testing.
It will resume at 11.40am.
Ms Barbagallo is now asking Dr Whitaker about his definition of contamination.
He has said contamination is the introduction of DNA into a sample in the post-crime forensic process.
"There needs to be a source of DNA … there needs to be an opportunity to get that DNA into another place … and there needs to be some sort of mechanism, some way the DNA has been taken from one place to another," he said.
Defence lawyer, Paul Yovich, in his opening address, said he had been unable to identify a specific event when Mr Edwards' DNA – which was being stored in the Pathwest lab within the Karrakatta rape exhibits – could have contamination Ciara's fingernails.
"As to the DNA evidence and its provenance, the defence does not put forward a specific alternative scenario," he said on November 27, 2019.
"The accused man does not know how DNA matching his profile came to be part of this sample and no breaches or failures of lab protocol or procedure have been documented that directly explain it."
Dr Jonathan Whitaker has been called to the stand.
He has been a forensic scientist in the UK for 30 years and holds a doctorate in philosophy and molecular genetics.
His former lab, the Forensic Science Service, was the first to develop low copy number DNA testing, which allowed for DNA profiles to be extracted from smaller amounts of biological material.
The technology was first used in a court case in 1999.
The testing was carried out on a number of Macro-related exhibits in 2008, including Ciara's fingernail samples, being a combined sample of her left thumbnail and middle fingernail (AJM40/42) and a combined sample of her right index and ring fingernails (AJM46/48).
Prosecutor Carmel Barbagallo is going through how low copy number testing works, Dr Whitaker's qualifications in the field, and the "hundreds" of court cases he has given evidence in.
"I've previously given evidence in [the UK], Australia, Sweden, Ireland, various countries," he said.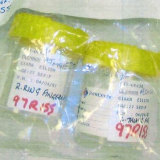 Welcome to WAtoday's live coverage of day 58 of the Claremont serial killer trial in the Supreme Court of Western Australia.
Today, the state's DNA expert will take the stand after flying in from the United Kingdom.
Dr Jonathan Whitaker was the reporting scientist at the Forensic Science Service lab in 2008 when the breakthrough discovery of Bradley Edwards' DNA profile underneath Ciara's fingernails was made.
It was the first time an unknown male's DNA had been detected on any of the Macro-related exhibits from Ciara or Jane's bodies, and the profile matched the perpetrator of an abduction and rape carried out in Claremont in 1995.
Mr Edwards admitted to the rape on the eve of his triple murder trial, with evidence showing the DNA profile recovered from his victim's rape kit swabs and hospital pants was up to 100 billion times more likely to have come from Mr Edwards than another person not related to him.
Mr Edwards' does not deny the DNA underneath Ciara's fingernails matches his profile, but alleges it got there through contamination within the Pathwest lab where the items had been stored for more than a decade before the breakthrough testing in the UK.
Mr Edwards has pleaded not guilty to the murders of Sarah Spiers, Jane Rimmer and Ciara Glennon.