Future Fund chairman Peter Costello has predicted the economy will shrink in the current March quarter, and whether it notches up two quarters in a row of negative growth will depend on the spread of the virus.
"Undoubtedly I think we will get a negative quarter in March," the former Liberal Treasurer and chairman this website's owner, Nine, said at the Australian Financial Review business summit this morning.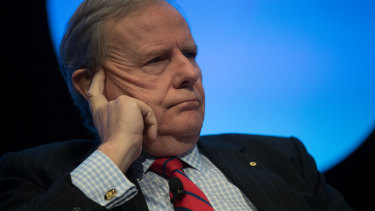 Mr Costello pointed to official estimates that the virus would take 0.5 percentage points off the economy's growth rate – and said this was happening at a time when growth was already slow.
"You've got to remember that growth rates in Australia have already been somewhat lower and so when you do get this negative effect, it can diminish all of the growth," he said.
As the federal government prepares to unveil an economic stimulus package, Mr Costello said there was a case for a "measured" fiscal response. Whether there was a need for further action could be assessed at the time of the May budget.
Mr Costello said he thought it unlikely the government would raise the rate of Newstart. He backed "supply side" measures such as cutting payroll tax, but acknowledged this was state tax.
Several hundred people are being asked to self-quarantine in Washington DC after potential exposure to the first confirmed case of the new coronavirus in the US capital, who has been identified as the rector of prominent church.
Officials on Saturday had announced the district's first positive test, but identified the victim only as a man in his 50s. On Sunday, the patient identified himself as the rector of Christ Church Georgetown. Late on Monday authorities announced three more cases, including a man who had attended the church.
The new precautions come as the virus continues to roil the normal routine in the nation's capital. A popular convention city and a springtime destination for hundreds of school trips and thousands of tourists, Washington officials have insisted that the city remains open for business.
But tourism leaders admit that they expect virus fears to cut into the visitor numbers – including for the city's popular Cherry Blossom Festival, which starts on March 20.
Mr Hunt said the virus was "a once-in-50 year challenge" as the global death toll reaches more than 4000 and over 100 infections are confirmed in Australia.
"Now is the moment of pressure, so we're upscaling, the states are upscaling, the GPs are upscaling," he said.
Mr Hunt said Industrial Relations Minister Christian Porter and Professor Murphy had discussed provisions for sick workers with employers.
"I think that's a very important part of preparedness but also in terms of equity," he said.
Professor Murphy said health authorities had yet to see evidence of community transmission outside of a cluster in Ryde in NSW but would "not hesitate" to shut-down public gatherings if there were more sustained transmissions across the country.
"We are reviewing this every single day. We look at the epidemiology, we look at the pattern, each of the state and territory health departments and I get together. And if there was a reason to make significant public event moves, we would do it."
Three further cases of coronavirus, including a teacher from Carey Baptist College, have been confirmed in Victoria.
It brings the total number of cases in the state to 18 and comes as Premier Daniel Andrews says the time will come when the government will need to ask Victorians to do things we have never done before.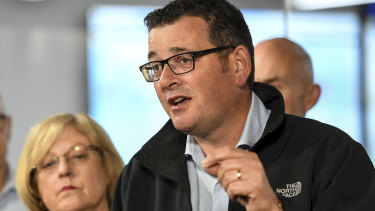 "There's a number of big and very challenging things we will ask the community to do," he said.
The state government will soon release its COVID-19 plan which allows for the possibility that all schools will be closed.
Some very big events could be cancelled, Mr Andrews said.
"We are going to ask a lot of Victorians."
Victoria's Health Minister Jenny Mikakos said seven screening clinics had opened, including one at the Royal Melbourne Hospital, where 120 people were screened on Monday.
Carey Baptist College was the first school in Victoria to close after the teacher was diagnosed on Monday.
The school could remain closed for several days.
The teacher was infected by a family member who contracted the illness on the same US-Australia flight as Toorak doctor Chris Higgins, who treated 70 patients while sick. The teacher's diagnosis is the first case of human-to-human transmission in Victoria.
Melbourne University is only allowing staff to travel overseas if it is absolutely necessary and they receive special permission from the university, a professor says.
After Sydney University banned overseas staff travel this morning, professor Sandra Milligan, head of Melbourne University's education assessment research centre, said she had already cancelled a trip to Frankfurt for a conference in two weeks.
"Special permission needs to be received, so the university is taking very seriously the need to slow the virus in its tracks," she said.
"The university is doing everything it can to help its staff, but I know it's impacted a number of people financially and organisationally. It is exceedingly disruptive."
Professor Milligan said the impact on Melbourne University's campus, where classes started again last week, was also noticeable.
"A lot of our students haven't been able to get here and people have a general fear of getting the virus, but also things like being quarantined and the costs associated with travel changes."
The Premier and Victorian Health Minister spoke with reporters earlier this afternoon:
Health Minister Greg Hunt and Prime Minister Scott Morrison have asked the government's medical experts to review the status of Italian travel advisories.
"We have done that obviously on the basis of the growth in cases over the last 48 hours in particular, and with regards to Italy's own decisions," he said.
"That advice will be forthcoming over the course of the next 24 hours."
Chief Medical Officer Brendan Murphy said the number of deaths in Italy, which surged to 463 overnight, suggested a "very large outbreak in Italy".
"They've taken the sort of measures that a country should take to try and contain and delay further spread," he said.
Professor Murphy said it was very important to clarify any confusion about who should be eligible for coronavirus tests.
"Our focus at the moment is testing people who are returned travellers, who have acute respiratory symptoms – cough, sore throat and the like and contacts of confirmed cases," he said.
"It may happen at some stage in the future, if we have more community transmission than that one episode we've got, but at the moment we are not recommending people with acute, cold, flu-like symptoms, unless they are a returned traveller, or unless they are a contact of a confirmed case, be tested."
Health Minister Greg Hunt and Chief Medical Officer Brendan Murphy gave an update on the situation across Australia.
DFAT has confirmed there are six Australians on the Grand Princess cruise ship docked in California, where US authorities are transferring passengers to the mainland – with foreigners to be flown out on charter flights – but would not say what arrangements the government was making for their transfer.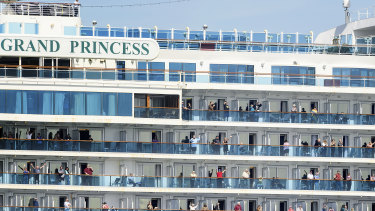 "US authorities are testing every person on board, and we are awaiting advice as to whether any of the Australians has contracted COVID-19," a DFAT spokesman said.
"The Australian Consulate-General in San Francisco stands ready to provide consular assistance, in accordance with the Consular Services Charter, to any Australian citizen aboard the vessel, should they require it."
Two of the six Australians are long-term US residents and travelling on non-Australian passports.
US authorities have indicated that American citizens will be moved off the ship first, and transferred to quarantine on military bases, with the process expected to take until Friday.
Crew of the ship will be kept on board for quarantine.
DFAT updated its Smartraveller advice overnight to warn against cruise travel.
This opinion piece from an emergency doctor working at Ryde Hospital who was isolated after exposure to a positive COVID-19 case, is worth a read.
It makes the case for isolating everyone in major population centres at home for two weeks, to try to contain the spread of coronavirus.
"Committing to isolation to slow the disease spread at this critical stage, and reducing close contact when possible, may help us to manage the weeks and months before we have a vaccine, or forms of treatment, to lessen the impact of COVID-19 disease. If not now, when?"