"The AFL are really being guided by the authorities so it's not them so much making the call on no crowd games, they're following guidelines which is the right thing to do."
The AFL said on Tuesday it is prepared for the contingency of games being played before empty stadia, but has not said what would happen if games were cancelled.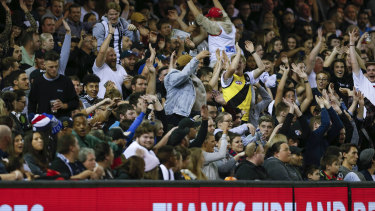 The AFLFA wants members to have the option of a refund for any games they can't attend, and for those with tickets not connected to memberships to be afforded a refund.
"It would only be fair to provide the options for refunds for members' memberships, so a pro-rata option. I say the option because some fans will be happy to treat it as a donation to their club in recognition that their clubs are going to suffer financially," Eeman said.
Loading
"For fans that are cash strapped understandably they will be wanting a refund.
"With tickets, not linked to memberships, I don't think people will be providing a donation so they should be refunded.
"We are crossing our fingers it won't come to a ban."
Eeman said it would be bizarre watching AFL matches on television before empty stadia, which has been the norm in Italy's Serie A because of coronavirus.
"It will be a bit eerie to see games played in empty stadiums and there will something a bit sad about it but fans will still watch, I will, even though it feels a bit of a strange feeling no noise after a goal."
Anthony is a sports reporter at The Age.