They also argued at appeal that Todd's sentence was disproportionate to the severity of his crimes.
Chief Justice Ferguson said given Todd's limited prospects for rehabilitation, and the seriousness of his offending, a life sentence with a 35-year minimum was appropriate.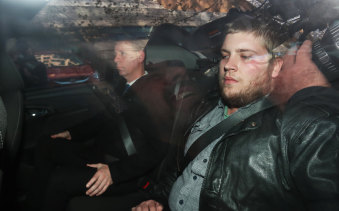 She described Todd's actions as being "unspeakably loathsome and cruel".
"A young woman should be able to walk home alone after a night out without any fear of being harmed, let alone subjected to a vile sexual attack and killed," Chief Justice Ferguson said.
"She should not have to be looking over her shoulder to see if anyone is following her. Her heart should not have to skip a beat when she hears approaching steps from behind.
"Tragically, this case shows that women still cannot have confidence that they can walk in public places at night without potentially attracting the attention of predators."
Todd was diagnosed with a sexual sadism disorder while in custody.
He pleaded guilty to murder, rape, attempted rape and sexual assault.
Loading
Before the murder, Todd fantasised about violent rape culminating in a woman's death, and watched violent pornography depicting women being raped and killed.
Todd saw Ms Dixon, 22, outside Flinders Street Station about 11pm on June 12, 2018. He stalked her for more than an hour before attacking her as she walked home through Princes Park in Carlton North.
After murdering Ms Dixon, he bought a pie and coffee, returned to the crime scene and then went back to his Broadmeadows home, where he Googled rape and pornography as well as information about his victim.
Sentencing Todd, Justice Kaye described the young man's prospects of rehabilitation as being very limited, saying there was a "poor" likelihood Todd could overcome his sexual sadism disorder.
If you or anyone you know needs support, you can contact the National Sexual Assault, Domestic and Family Violence Counselling Service on 1800RESPECT (1800 737 732), Lifeline 131 114, or beyondblue 1300 224 636.
Bianca Hall is a senior reporter for The Age. She has previously worked in the Canberra bureau as immigration correspondent, Sunday political correspondent and deputy editor.