"My first year was a write-off," Bird said on Monday. "But I think the ACL struck me harder than that. I was back on my feet and I was happy but that ACL just pushed me right back down. But I'm pretty resilient and will keep moving forward. I'll never give up and nothing will stop me playing the game I love."
Broncos coach Anthony Seibold, who had sought out Bird and asked the regular centre to make the move to fullback, said it was a shocking blow for a player who has been dealt a series of savage injury blows.
"Rugby league is a cruel game sometimes," Seibold said. "Jack's commitment to his rehabilitation has been unwavering in his return from his last knee injury.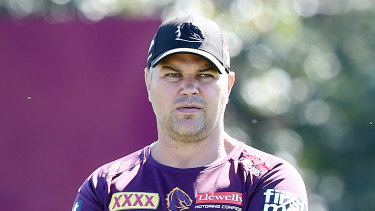 "He has had a tremendous pre-season and ticked all the boxes required for a great start to the year. He had trialled really well in the fullback position and was excited to be playing in the first game of the season.
"All of his teammates and the staff at the Broncos are devastated at the timing and nature of the injury. The club will do our best to help Jack in his recovery and personal wellbeing and provide him with everything he needs."
It was a nightmare scenario for Seibold, who was also forced to deny a report about an alleged altercation with a fan at a pub in Byron Bay.
Loading
A report on an anonymous website alleged that the Brisbane head coach was engaged in a dispute at a pub in the northern NSW beach town but Seibold said it was "laughable".
"It's pretty laughable. I've heard some bizarre things in two years as a head coach but that particular one takes the cake. I was actually with another head coach from an NRL club and a couple of his assistants and there was no verbal or physical altercation. I found it bizarre. The less said the better," Seibold said.
"There was no date mentioned, no establishment mentioned, I find it laughable. In any case, it doesn't stress me. There was no name put to the article. Like I said, it was one of the most bizarre things."
The Broncos will be co-captained in their season opener on Friday by new recruit Brodie Croft and young middle forward Pat Carrigan. Croft has made a strong impression in pre-season and must lead Brisbane in attack, with Seibold saying it was natural in that case to give him an official voice on the field.