His interactions with various people connected to the township are being examined at the inquest.
The day after the body of Taree woman Margaret Cox was found in the Manning River at Old Bar, Abbott's arms were covered in scratches, his former boss Iris Northam told the inquest on Wednesday.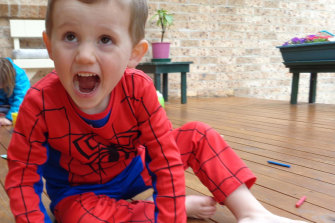 "He had some marks on his arm. My husband saw them and said, 'What happened to your arm?' and Frank just said, 'Oysters,' " Mrs Northam said.
"They didn't look like oyster scratches to me. More like where finger marks had gouged skin out," she said.
Mrs Northam said she was "sort of concerned" but didn't press any further and she and her husband remained friendly with Abbott, who returned to the Mid North Coast after the state failed in its attempts to convict him of murder over Helen's death.
Nobody has been charged over Ms Cox's death.
Another witness, Abbott's neighbour Jodie Huntley, told the inquest that she had a "funny feeling" about him and didn't want him near her children.
She ultimately called the police when she saw the family dog was being enticed into Abbott's caravan.
"I asked him to stop but he didn't. Buddy came home with things around his bottom which gave me an indication of what he might be doing," Mrs Huntley said.
"I followed him to the caravan … he had him [Buddy] on the end of the bed with his legs up and tail up."
Asked by counsel assisting the inquest Gerard Craddock, SC, if she saw if anything "happened between them", Mrs Huntley said she didn't look to see if Abbott was wearing pants or not, so she couldn't say.
Mrs Huntley said that Abbott also came over to the family's home late one night and asked if they had heard his friend Geoffrey Owen was "a suspect in the William case and the police have come to see him".
The couple just wanted him to leave, she said.
Loading
"I was locked in me room for a number of weeks until you were moved out of there, because the officer said I was going to be shivved [stabbed]."
Another witness, the former owner of Johns River General store Patrick Teeling, told the inquest that Abbott "run up behind me" after William disappeared.
"[He] was saying, 'I knew they'd get him, I knew they'd get him,' " said Mr Teeling, who told the inquest he had never discussed William with Abbott before.
"He said, 'That Jones chap they got last night, they took his cars,' " Mr Teeling said.
Sally Rawsthorne is a Crime Reporter for The Sydney Morning Herald.