He feared that Australians may continue "to be tested in an unprecedented way and said he wanted Australians to know how much his family and he cared about and were shocked by what must have been "an apocalyptic vision of hell".
"At the very worst of times, we saw the very best of Australians and knowing the Aussies as I do, after 54 years, that makes me very proud," the Prince of Wales said.
But he also drew laughs when he recounted how on a trip to Australia in 1966 "after a very, very long flight" he was sprayed in accordance with Australia's strict biosecurity laws. "By the end of this process I thought 'do these people really want me here'?" he said, to laughs.
He recounted a subsequent trip where a group of Australians greeted his entourage by asking "Who are you?" only to continue "oh it's the bloody bludgers!'" the prince said, adopting an Australian accent.
He urged those attending to donate generously. Australia's High Commissioner to the UK George Brandis revealed the prince had personally made "a substantial private donation" to an Australian charity helping Australians recover from the devastation.
The novelist Lord Archer was the auctioneer and he extracted nearly £100,000 ($198,000) for items donated, including a couture dress by designers Ralph & Russo, business class flights and tickets to every match from Qantas and Cricket Australia, a private box at the Royal Albert Hall, lunch with and a personalised portrait by Barry Humphries and a backstage tour of Her Majesty's Theatre in London with Phantom of the Opera star Josh Piterman.
Melbourne-born Piterman, the widely acknowledged star of the night, sang Music of the Night and The Prayer at the event which was hosted by comedian Adam Hills, who capped off the evening singing the national anthem to the tune of Jimmy Barnes' Working Class Man.
Lord Archer revealed that Rupert Murdoch had phoned him that morning to lodge a bid worth £15,000 for a small Russell Drysdale watercolour.
But Murdoch was immediately outbid by a buyer in the room when the media mogul was revealed as the bidder.
It is estimated that between ticket sales, a silent auction, private donations and the public auction the event raised more than half a million dollars.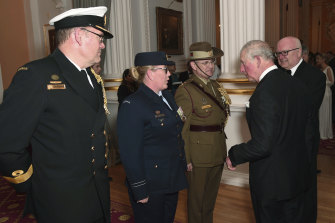 Latika Bourke is a journalist for The Sydney Morning Herald and The Age, based in London.