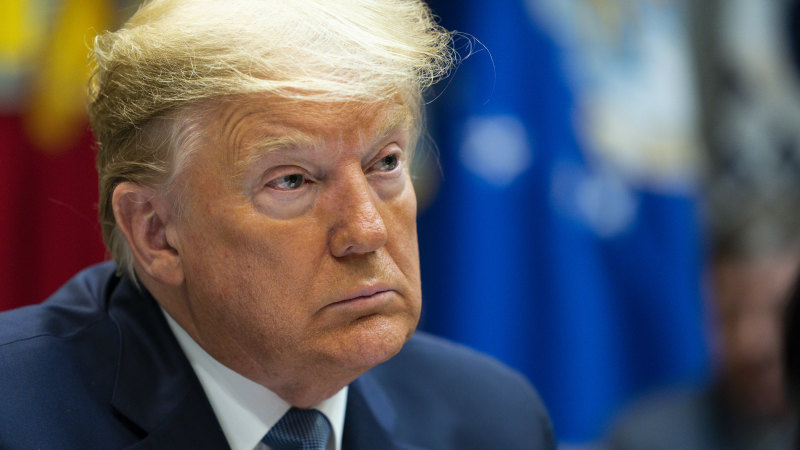 "The central bank 'put' has established a floor under risk assets for the past decade. This is the first time that markets are seriously questioning whether it will work again," Jason Daw, a strategist at Societe Generale SA in Singapore, wrote in a note on Thursday.
"While fiscal policy is better medicine than monetary, neither are properly equipped to mitigate the coronavirus-induced growth shock."
Loading
Error-laden announcements added to Thursday's tumult. Trump's initial comments suggested restrictions on both travel and trade from Europe, while subsequent clarifications emphasised it applied just to people. Even then, the news underscores how steps to slow the spread of the disease unavoidably also hammer businesses, and so corporate earnings and sharemarket valuations.
Trump spoke little more than an hour after his Australian counterpart, whose own announcements similarly failed to assuage equity investors. Prime Minister Scott Morrison formally announced nearly $18 billion in stimulus. The S&P/ASX 200 Index, which had opened in the red, saw losses more than double at one point before closing 7.4 per cent lower. It is set for similar losses on Friday.
The ECB, for its part, left its deposit facility rate and its main refinancing rate unchanged, while it added $US135 billion ($213 billion) of net asset purchases through the end of 2020. Shares of banks nevertheless extended their drop to 12 per cent.
Stocks extended losses as ECB President Christine Lagarde put the ball in the court of European governments. She urged a coordinated fiscal response and said the virus's implication for inflation is highly uncertain.
Yet the German chancellor's pledge to pull out all stops to contain the economic damage from the virus failed to impress markets. Merkel and her economic team are ready to give up a balanced budget to pay for containment measures, according to people with direct knowledge of the government's economic policy.
The UK's coordination of fiscal and monetary initiatives didn't do much to stem the slide in the nation's stocks either. The Bank of England cut interest rates by half a point on Wednesday, when the UK government also pledged a $US39 billion emergency boost to spending.
One market where authorities are proving purposefully unhelpful is oil. With Saudi Arabia and Russia battling for market share, that's provided a double whammy, alongside the hit due to sliding demand as global growth decelerates.
West Texas Intermediate crude has tumbled by roughly half from the high in January.
Loading
Trump's actions might not have prevented a bear market for US stocks, but in another market things have moved in a more favourable direction. The dollar, which Trump has long said was strong and hurting US competitiveness, is on the retreat – at least against the euro and yen. Losses for emerging-market currencies make the dollar index a more equivocal play.
The asset that for the moment stands out as potentially less responsive to fear and panic is gold. The traditional haven asset climbed as the coronavirus spread around the world, but it's come off of the high it reached Monday.