"If Victoria Police fails to properly acknowledge and address the obvious risks, it would breach its health and safety obligations," Mr Gatt said.
The Age has been told that officers conducting tests over the past fortnight have not been given additional protective clothing or instructions on how to mitigate the risk of infection. Up to 4 million alcohol tests are conducted on Victorian drivers every year.
Mr Gatt would not rule out industrial action if the force refuses to act.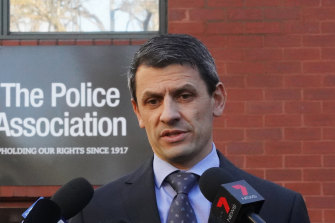 "TPAV is in constructive dialogue with Victoria Police about the safety of our members in the current high-risk environment. We expect common sense health decisions will be made in the best interests of our members and the general public," Mr Gatt said.
However, Griffith University infectious diseases expert Nigel McMillan said the risk to officers could be "overstated," as police forces from other states grapple with the same issue.
"They use gloves and disposable tips and spend less than 5 minutes with each person. Any risk is very low I would have thought," Mr McMillan said.
A Victoria Police spokeswoman said the force was monitoring the coronavirus outbreak but insisted that drug and alcohol testing would continue as usual.
Loading
"We already have a number of infection control measures in place at all drug and alcohol testing sites to stop the spread of any contagious viruses….That said, we understand some questions have been raised about whether these measures go far enough," the spokeswoman said.
Victoria Police has sought advice from both the Victoria Police Medical Advisory Unit and the Department of Health Chief Medical Office, according to the spokeswoman.
The police spokeswoman warned that anyone refusing to undertake a preliminary breath test because of concerns about infection would still face a two-year licence suspension and fines of up to $1500.
Shadow Minister for Police and Community Safety David Southwick said it was unacceptable that frontline officers had not been adequately briefed.
"Any drop in Victoria Police numbers places community safety at risk and now more than ever, the health and safety of frontline officers must be a top priority."