"There is the potential to lose hundreds of thousands of dollars this Thursday alone based on gate receipts, hospitality, corporates," Hill said. "We've got the same expenditure, but we now have no revenue. That's what we're looking at. We still have to hire a ground and put a game on.
Loading
"I've spoken with stadium management and we've confirmed we'll definitely play there on Thursday night behind closed doors. But we need to work with the NRL and government to better understand that 500 number [the federal government guideline for public gatherings]. At this stage we're not sure who makes up that number, and does it include the players and logistical staff?"
Hill said if fans were frozen out of stadiums, he hoped broadcast numbers would improve, which would help clubs retain key sponsors. Canterbury, however, lost a $2 million front-of-jersey sponsor because of the Port Macquarie scandal.
If the fan lockout continued for months and possibly the season, Hill was unsure what would happen with refunding club memberships, "which is a scary thought".
The Bulldogs have about 15,000 members with a full refund expected to cost the club more than $2 million.
Hill confirmed the Canterbury board would meet before Tuesday to discuss the possible penalties for Harawira-Naera and Okunbor. While the NRL will make the ultimate decision, the Bulldogs can put forward their own recommendations.
The possible sacking of the pair is a bitter blow for coach Dean Pay, who needs results to earn a new deal beyond this season. One person who supports Pay is his good mate and Canberra counterpart Ricky Stuart.
It can be revealed the Dogs made initial inquiries on Saturday about signing former Canberra winger Jordan Rapana, who is keen on a return after coronavirus suspended the Japanese rugby competition.
Stuart, who played alongside Pay and employed him as an assistant at the Raiders, went in to bat for the third-year NRL head coach.
"I spoke to Dean during the week and I've never heard him as down as he was," Stuart said.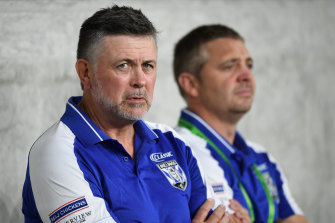 "He has wonderful moral values, as we've seen this week. That's what you want from your leader.
"You only have to see the way they finished last season, and what was a disruptive week this week and the way they came out and played for him against a red-hot Parramatta team.
"I've been very fortunate at Canberra because my board have given me the opportunity and time to create stability and build a competitive football team. That doesn't happen in two or three years.
"I always told our members it would hurt to start with but if we can't be patient things will never get fixed."
Loading
Rapana was linked with a return to the Raiders, but they have little room in their cap and the Bulldogs planned to reach out to the winger's management. The Kiwi flyer would be a logical wing replacement for Okunbor if he is sacked.
No rival club will be able to sign Harawira-Naera or Okunbor for this season if the NRL deregisters him.
Christian covers rugby league for The Sydney Morning Herald.