Loading
"The welfare of Saigon is our top priority – it was not acceptable to leave her in a cow paddock in Victoria, with her future uncertain."
Alex Greenwich, an independent state MP, approached Mr Marshall to ensure the animal's future companions would be drawn from a zoo rather than the wild.
"Travelling circuses have been shown to be a very cruel existence for elephants," Mr Greenwich said, adding it "would have been tragic had she been retired into isolation".
"While her new home will be an improvement and I'm glad she will no longer be alone, elephants do not belong in captivity and this archaic practice must end," he said.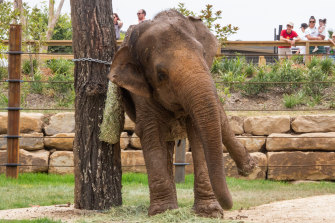 A spokesman for Sydney Zoo said Saigon had settled into her new home "incredibly well".
"Sydney Zoo's purpose-built facility includes two separate paddocks, a large expanse of different typography, a large body of water, mud wallow, and climate controlled house along with plenty of shade," he said.
"We are looking forward to welcoming two new elephants soon."
Lynda Stoner, chief executive of Animal Liberation, said grouping Saigon with water buffaloes was "not adequate".
"Elephants are very social creatures and have strong family units," she said.
The Dublin Zoo was unavailable for comment because in response to the COVID-19 virus, it has been closed until March 29.
NSW's general standards for exhibiting animals includes an extensive "Policy on the Management of Solitary Elephants".
"An elephant is considered solitary when it does not have physical contact with other elephants," the policy states.
Loading
It also notes the American Zoo and Aquarium Association found it "inappropriate" to keep female elephants singly and recommended that facilities hold a minimum of three female elephants together of the same species.
The local equivalent, the Australasian Regional Association of Zoological Parks and Aquaria, suggests zoos should aim to hold a group of at least four females of varying ages.
"Adult males six years or more in age can be housed alone, but not in complete isolation as they should have tactile, olfactory visual and auditory interactions with other elephants," the NSW policy notes.
That said, sometimes elephants just don't bond. The US association recognised "some anti-social adult females currently exist" even after handlers have "made every effort to introduce them to a social group" and determined such behaviour to be "not correctable", the NSW policy notes.
Ms Stoner said it was possible the Dublin elephants "may not get along well" with Saigon, adding it was preferable that both newcomers were female.
"It'll probably be problematic if they brought out a bull elephant," she said. "She's too old for that."
Still, Saigon should have a few good years ahead.
"People around her have her best interests at heart," Ms Stoner said. "She's enjoying the best, last few years of her life."
Peter Hannam writes on environment issues for The Sydney Morning Herald and The Age.
Most Viewed in Environment
Loading