WA Health Minister Roger Cook has confirmed three new cases of coronavirus in the state.
The two men and one woman are all understood to have been travellers coming to Perth from overseas, and brings the total number of cases in WA to 17.
The Department of Health will hold a press conference at 1.30pm to discuss the cases further.
Two major Australian cruise companies have today announced a month-long pause in their operations due to the national ban on mass gatherings in an effort to confine community spread of COVID-19.
P&O Cruises Australia and Carnival Cruise Line have cancelled their scheduled cruises for the next 30 days in an effort to meet the federal government's advice not to gather with 500 people or more and for Australians to reconsider their travel plans.
P&O's affected cruises include Pacific Explorer, Pacific Dawn and Pacific Aria that were scheduled to depart Sydney, Brisbane and Adelaide respectively.
Pacific Explorer's scheduled call to Eden tomorrow has been cancelled and the ship will return to Sydney for arrival as planned on Monday.
Pacific Dawn's cruise from Brisbane today will not proceed.
Pacific Aria currently on a cruise to Tasmania will now return to Adelaide on Monday.
The company plans to resume cruises from April 12.
Carnival Cruise Line's two ships currently at sea will continue their voyages and return to Sydney as scheduled.
The company will cease its cruise line operations from March 15 and will resume on April 13.
Both companies will make direct contact with guests whose cruises have been affected.
The WA Health Department will be conducting a press conference at 1.30pm today to update the public.
Deputy chief health officer Dr Robyn Lawrence and director of communicable disease control directorate Dr Paul Armstrong will be in attendance.
As it stands here are the current COVID-19 figures in WA.
Netball WA has confirmed the national body will not proceed with the annual 17&U and 19&U National Netball Championships due to take place in Hobart later this year.
The tournament is typically a chance for young players to get on the radar of state clubs, with the affected age groups often the most sought after when it comes to filling out a team list.
It was due to be held between April 18 and 23 this year, but Netball WA posted a link to the Netball Australia statement on Saturday morning.
"Given the nature of the event, and after extensive consultation with medical experts and relevant stakeholders, Netball Australia made the decision not to proceed with the tournament, which would bring together teams from all states and territories," the statement said.
"Netball Australia has confirmed that the cancellation of the National Netball Championships does not mean that all netball events and competitions should be cancelled, however, caution in line with government recommendations should be exercised."
It's understood decisions about the upcoming Suncorp Super Netball series will be made in due course.
The Shire of East Pilbara has been forced to cancel today's Harmony Day celebrations.
The council said it had decided to respond early to the Federal Government's advie around non-essential public gatherings of more than 500 people, as its Harmoney Day event attracted 650 attendees last year.
The celebrations were set to kick off this morning, but Shire President Lynne Craigie OAM said the council understood the need for caution.
"While there are no current known cases here in Newman, it's important we play our part," she said.
"We have some groups in our community which fit the government criteria for being most affected if there was a coronavirus outbreak locally."
"At the moment the Shire is focused on our immediate actions and response, however in the coming months the Shire will consider if impacted events can be rescheduled once restrictions are over."
The event's cancellation will likely be an unwelcome blow to the Newman economy, but residents have generally been supportive of the decision.
The Victoria Park mayor has urged its local businesses and organisers to consider postponing or cancelling their event calendars indefinitely, rather than pushing ahead in spite of COVID-19 fears.
The council announced it would be cancelling Harmony Week and the Arts Season film screening of Nosferatu: A Symphony of Horror.
Playtime in the Park, the Lathlain Park opening, Town Faithful and the Victoria Park Business Awards have all been postponed until further notice.
The announcement to postpone the Lathlain Park opening – also known as Mineral Resources Park – comes after the West Coast Eagles it would be closing its facilities at the venue until the COVID-19 threat is downgraded.
The Town also advised Higgins Park consultation workshops, its laneway naming launch and pop-ups and Baby Rhymetime and Storytime had all been "interrupted until further notice".
"At this stage, there is no timeline for this advice. The town will continue to respond as a result of the changing circumstances and provide regular updates," she said.
"We understand this is not a ban, with each jurisdiction able to make its own decisions, based on the advice.
"Some of these events have been cancelled or postponed due to the risks around more vulnerable attendees rather than numbers, such as [the] library children's programs and the Town Faithful event for seniors.
"The town has chosen to follow this advice for its own events and gatherings and encourages other event organisers and venues in the town do the same."
Community members intending to go to local events and gatherings should seek information from organisers directly to confirm details.
WA's Department of Justice has hosed down concerns from the WA Prison Officers Union, who put out a statement on Friday afternoon saying the first prisoner claiming to have the potentially deadly coronavirus was taken to Hakea Prison had since tested negative.
WAPOU secretary Andy Smith initially said if COVID-19 was to spread in one of WA's jails it would "wreak havoc" not only on the system but to the broader community.
"The government should be doing everything it can to keep this virus away from the jail system, not only for the safety of our members but for the safety of their families and the community," he said.
However, the department has hit back and says the WA prison system is doing its best to prevent a widespread outbreak.
"There are no confirmed cases of COVID-19 within the Western Australia prison estate," a spokesman said.
"Corrective services has established a special taskforce to respond to the risks posed by COVID-19.
"Every prison has a Pandemic Management Plan to minimise the risk of COVID-19 entering the prison estate and to control infection.
"These plans are being adapted as fresh advice is received from the WA health department.
"Each prison also has operational plans for receiving prisoners who may be at-risk of
infection.
"Yesterday, Corrective Services were advised by the WA Police Force that a person
had been remanded into custody who may have come into contact with an infected
person.
"The prisoner was subsequently transferred to Hakea Prison, and held in isolation in
accordance with Health Guidelines and Hakea's operational plan.
"Health authorities have since advised the prisoner tested negative to COVID-19."
The department said all new prisoners entering a WA prison would be assessed in accordance with health department guidelines, and would be medically screened as per standard procedure.
"Western Australia's prison estate has the capacity to manage the arrival of prisoners or detainees who may have been exposed to COVID-19," the spokesman said.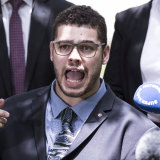 WA Senator and Australian Greens Disability spokesperson Senator Jordon Steele-John has voiced serious concerns about the way disabled people have been informed and protected about the threat of COVID-19.
Mr Steele-John said he has asked the Federal Government to urgently convene a meeting of state and territory health and disability ministers, disability organisations, advocates and the NDIS to discuss ways to ensure disabled people are not disproportionately impacted by the pandemic.
"There has been no coordinated approach from the federal government into the impact of COVID-19 on disabled people and, frankly, a disturbing attitude of buck-passing in the context of wider economic concerns," he said.
"Neither the Health Minister, nor the NDIS Minister seems to have appropriately considered the impact of COVID-19 on disabled people or the complex network of support workers and service providers who support us to live a good life.
"I'm already hearing reports that service providers are beginning to wind down the services and supports they provide over concerns about COVID-19 and the potential transmission to clients; the reality of this situation is that disabled people, without support, will be left high and dry.
"If you rely on support to help you do your shopping each week and prepare meals then the ability to eat could become an issue! If you rely on round-the-clock support that is suddenly cut then your situation could become dire very quickly.
"These are the kinds of issues that need to be taken seriously and addressed urgently or else disabled people will die."
The City of Fremantle has announced its decision to cancel the Fremantle International Street Arts Festival amid growing health concerns.
The event regularly attracts more than the federal government's 500-person limit, and has been canned in order to protect the "health and safety" of those involved.
It was due to be held from April 10 to 13.
Fremantle mayor Brad Pettitt said the city was taking steps to make sure the festival would be back next year.
"We need to put the safety of our community first, so this year's Fremantle International Street Arts Festival will not go ahead. This is following advice from the federal government to avoid mass gatherings at this time," he said.
"We rely on an incredible team of artists, staff and sponsors who bring the festival to life each year and we'll be working with them to ensure they are supported.
"Where possible, artists will be invited to take part in the 2021 event."
The line-up featured Mat Ricardo, the Sprites, the Kikyo Brothers and Paul Currie.
The West Coast Eagles and Fremantle Dockers have welcomed the decision by the AFL not to delay round one of the season – instead choosing to lock out fans from attending the matches until the COVID-19 threat has downgraded.
Fremantle chief executive Simon Garlick said the club would be determining the right way forward to compensate its members and fans.
"Although we have been planning and preparing to play round one as scheduled, we can now focus on that task with a greater degree of certainty," he said.
"The players and coaching staff have done a tremendous job to remain focused on preparing for our round one away game against Essendon as best they can, despite the uncertainty and disruption caused to everyone's lives by COVID-19."
Fremantle's mens side is set to face Essendon at Marvel Stadium next week, while its women's side will play the Western Bulldogs at VU Whitten Oval on Sunday.
The club's response comes after forward Sam Switkowski tested negative for the disease after he had contact with a friend who had been in China earlier this year.
West Coast Eagles chief executive Trevor Nesbitt said the club's AFLW game would still be broadcast on Channel 7 at 2pm WST, and round one of the club's AFL season would go ahead next Sunday as planned.
"How long any restrictions in relation to mass gatherings are in place is anyone's guess at this point and we will continue to take advice from the AFL and relevant authorities," he said.
"We all hope the restrictions will be short term."
West Coast's facilities at Mineral Resources Park – including the Superstore and Aquila Café – and their Melbourne office will also be closed from Monday.
In the meantime, the club advised it would be taking the unprecedented step of holding media press conferences as teleconferences.