"Following the Australian government's decision to advise against organised non-essential large gatherings of 500-plus people from Monday, NSW Rugby – in conjunction with other stakeholders – are looking at the remainder of its regular season fixtures and overall operations in this very fluid situation," a spokesperson said.
"NSW Rugby is working with Rugby Australia and the respective stakeholders in this process in relation to the pandemic."
Committing to multiple community engagements might not be the smartest idea, and there would be nothing stopping fans at the regional venue making their way to watch the match in large numbers.
New Waratahs chief executive Paul Doorn is working with SANZAAR through possible options as the club braces for a potentially huge financial hit if Super Rugby fixtures are cancelled.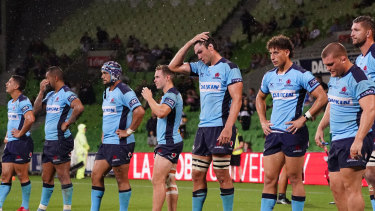 More importantly, though, is a Brumbies clash the Waratahs will be desperate to win in captain Rob Simmons' 150th Super Rugby match.
NSW will have to ignore whatever home support there is in Canberra if they are to rebound from a horror 51-14 loss to the Chiefs in which they conceded 38 unanswered second half points.
"We're not a terrible rugby team . . . we're playing some good footy in patches," said Simmons, who returns from an ankle injury this week. "Last week was extremely disappointing and everyone felt that disappointment. It's a chance to right the wrongs of last week.
"It has crept up on me," he said of the milestone. "I didn't think I'd ever play that many games. It's exciting to play for such a long period of time."
While the Brumbies are on track to top the Australian conference, there will be no shortage of motivation given the rich history associated with the fixture.
Since before the turn of the century when Eddie Jones coached the Brumbies, there has been a deep resentment for one another, with the Waratahs cast as entitled footballers against the cast-offs from NSW who went south for an opportunity.
Loading
NSW, with just one win from five starts this year, are staring down the barrel of missing finals for the fourth time in five years if they cannot arrest their slide soon.
The Brumbies have won six of the last seven of these derbies, including the last three. Never before have the Waratahs lost four games in a row to the Brumbies.
There were a couple of late changes on Saturday for the Waratahs. Tom Robertson (back) and Robbie Abel (illness) were replaced on the bench by Rory O'Connor and Andrew Tuala.
The Waratahs stressed Robbie Abel's illness was in no way related to COVID-19.
Tom Decent is a journalist with The Sydney Morning Herald