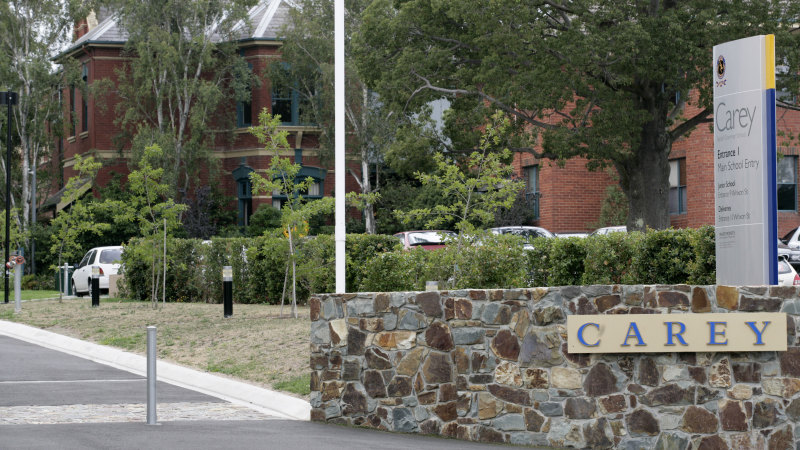 Carey's Mr Walter said the further closure would enable the private school to ensure all students had experienced a 14-day isolation from the first confirmed report of COVID-19 at the school on March 9.
Loading
"We realise this presents many challenges for families and staff however the health and safety of the community is our first priority," Mr Walter said.
"We have undertaken a thorough clean of the School and intend to maintain school operations at this time."
A timetable has been devised for parents and students to return to Carey to collect books and electronic devices, with a staggered entry to minimise the number of people on campus at one time.
The first confirmed case at the school was a teacher in her 50s, whose family member was confirmed to have coronavirus and was on the same flight from the US as Toorak GP Chris Higgins.
Another Carey teacher who tested positive for the virus shared an office with the first case.
Updated health advice for Australians
The symptoms of coronavirus include:
Fever
Cough
Shortness of breath; and
Breathing difficulties
If you suspect you or a family member has coronavirus you should call (not visit) your GP or ring the national Coronavirus Health Information Hotline on 1800 020 080.
Yeshivah–Beth Rivkah Colleges' principal Dr Shimon Waronker said all of the school's campuses would be shuttered, and "in light of worldwide events", those in the school community travelling back into Melbourne from overseas are required to undergo a 14-day 'casual contact' isolation.
"The decisions made are precautionary measures based on new information that we have a number of 'casual contacts' who are now displaying symptoms," he said.
"We understand the impact this has on families and we have taken all factors into consideration. However, at the priority of our discussions is the need to protect our community, especially the vulnerable, and do all we can to reduce the spread of the virus."
Loading
A teacher at the school in his 50s was diagnosed with coronavirus this week, after he flew in to Melbourne from Los Angeles with three other families from the college.
Geelong Grammar School announced yesterday that its four campuses would close by the end of the school day on Wednesday, as a precaution against the coronavirus pandemic.
In a letter to families and friends of the school, Geelong Grammar principal Rebecca Cody said the school council and executive and leadership teams had decided to bring term one to an early close as a pre-emptive measure.
The school has more than more than 900 boarding students across two of the school's four campuses, with students from over 16 different countries.
Carey Grammar was the first school in Victoria to close after a positive case of coronavirus. Westbourne Grammar School was closed from Friday while a student underwent testing.
Victoria now has now had 57 cases of COVID-19, with an additional eight cases diagnosed overnight, while more than 200 cases of coronavirus have confirmed across Australia.
With Goya Dmytryshchak
Ashleigh McMillan is a breaking news reporter at The Age. Got a story? Email me at a.mcmillan@theage.com.au