The list of flights that people with the virus travelled to Perth on are listed on the WA Health Department website.
As of Sunday afternoon the list included nine flights, but failed to list all flights that confirmed cases in WA travelled on.
Each of the 17 cases recorded in the state have been imported from overseas.
The majority of the cases travelled via plane, while two were onboard the Diamond Princess cruise ship and one contracted the virus by coming into contact with someone who had travelled overseas.
The list includes nine flights from March 3 to 13 via Dubai, London, Sydney, Brisbane, Hong Kong, Doha and Singapore.
Affected airlines include Qantas, Emirates, Cathay Pacific, Qatar Airways and Singapore Airlines that have travelled via London, Dubai, Hong Kong, Doha and Singapore.
The list contains flight numbers and rows of seats on those particular flights that people may have been sitting in.
The department advises those people in those "close contact" seats to self quarantine at home for 14 days and seek immediate attention of symptoms develop.
All other passengers should monitor their own health for 14 days from the day the flight landed and seek medical attention if symptoms develop.
From Age sports reporter Daniel Cherny: It was arguably the most entertaining match in AFLW history. Alas, no one was there to see it.
As expected, this was another very strange day at the footy.
Signs on the windows at Whitten Oval stated that "Due to the Coronavirus (COVID-19) this building is currently closed to the general public for the protection for those working within the building".
Accredited media needed written documentation confirming they were well before being let into the ground.
There were no fans, save for a handful of travelling family members barracking for Fremantle.
Thousands of passengers who disembarked an Italian cruise ship in Albany over the weekend have not concerned locals.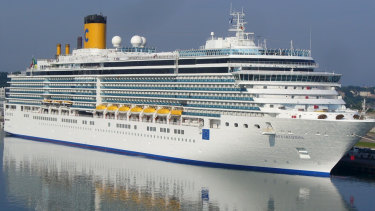 The Costa Deliziosa, a luxury cruise ship able to carry up to 3000 passengers, docked in the port city on Saturday morning and thousands of tourists were able to flock in to the township.
City of Albany mayor Dennis Wellington said while he understood the concerns around cruiseliners at present, Costa Cruises had taken every step to ensure passenger and town safety.
He said the cruise had not been in the Asia Pacific, and as a result there weren't heightened concerns around the health of those on board.
"We are taking all relevant advice from health officials and what will happen will happen," he said.
In a statement from Costa Cruises, a spokesperson confirmed they were following World Health Organisation guidelines.
"In the past months Costa Cruises had further strengthened the precautionary measures on its fleet and has strictly followed the guidelines from the World Health Organisation, however the logistics of travelling around the world are today more challenging than ever and with increased restrictions adopted by several countries carrying out safe and smooth operations has become significantly
complex," it said.
"In an effort to contain the health emergency, Costa Cruises already had reviewed the itineraries of its ships calling at Italian ports up to April 3, while Costa operations in China were already suspended on January 25.
"Cruises currently underway will end their current cruise only to allow guests to disembark and return to their home.
"Costa Cruises is promptly informing travel agents and customers who were looking forward to boarding one of Costa ships, who will receive a voucher for full refund."
Prime Minister Scott Morrison is giving an update on coronavirus following the national cabinet meeting to address the crisis.
Key points:
All people travelling into Australia must self-isolate for 14 days, following New Zealand's lead
Schools will remain open
Foreign cruise ships have been banned from docking for 30 days
Mass gatherings do not apply to train stations, shopping centres
Australians required to practise social distancing
"This is very important," Mr Morrison said.
"What we have seen in recent weeks is more countries having issues with the virus and that means the source of that virus is coming from more and more countries."
Mr Morrison said bans have been very effective to date.
"What this measure will do is ensure, particularly Australians who are the majority of people coming to Australia on these flights, their self-isolation for 14 days will do an effective job in flattening this curve," he said.
"Similarly the arrangements for cruise ships will have the same effect.
"Social distancing measures are now required and will need to be introduced progressively to reduce disruption, this has the most benefit in delaying transmission."
Mr Morrison ensured that the flights would continue running to make sure Australians could return but reiterated that all those returning must self isolate.
WA Woolworths customers have been impacted by goods shortages, with both click and collect and delivery options off the cards for those wanting to speed up their shopping.
Radio 6PR's Lisa Barnes posted a screenshot of a text message from her local Woolies on Sunday morning, saying the shop could no longer process her order.
"We are very sorry but we have cancelled your pick up order due to significant item shortages, your refund is being processed," it read.
"At this stage pick up will not be available until further notice. Please accept our sincerest apologies for this disappointing experience."
Coles has also previously sent its own apologies to customers, although rather than cancelling delivery or pick up options, it has put in place a number of restrictions in order to stop panic buying.
"From Saturday we will limit the purchase of pasta, flour, dry rice, paper towels, paper tissues and hand sanitisers to two items per customer. We will also be introducing some additional limits on certain items in each store," the email said.
The store has also temporarily suspended its change-of-mind refund policy, and asked anyone who purchased items they no longer wanted to donate them to community organisations or neighbours struggling to purchase them.
We asked our readers from metropolitan Perth and regional WA how they were coping with COVID-19 restrictions and panic buying.
Here's what they had to say: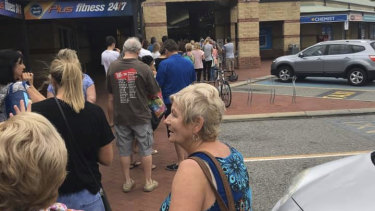 "All I wanted yesterday was one packet of tube spaghetti but shelves stripped bare by 12pm. I really feel for our elderly and other vulnerable people who don't have the opportunity to shop much. Our local store had people lining up to get in. Shameful behavior." – Sam Menezes
"My daughter is at boarding school in Perth. She's coming home today. WA is days, weeks behind the east coast, so we should get the boarding kids home before they catch it and take it back to their communities. For once, geographic isolation is our friend so let's get ahead of this." – Deb Pearce
"I'm worried about having to catch public transport, [for example] the train. I've noticed the Mitchell Freeway is extremely busy in the mornings now so obviously more people driving themselves. Money wise, I don't have a choice but to get the train. Pretty hard to stay a metre away." – Fiona
"Many friends lost thousands and most likely their businesses from cancellation of Crab Fest at the very last minute. I understand cancelling but not hours before – nothing had changed. Most insurances won't cover as it's not a natural distaster. Crab Fest also gets many through the winter." – Veronica
WA gyms are ramping up hygiene measures for patrons after a confirmed coronavirus case patient was found to have visited Fitness First in Sydney's CBD last week.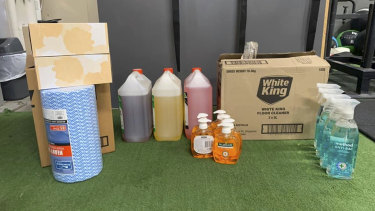 Local gym and fitness studio owners have tightened up their cleaning procedures as they face a potential loss in membership and income due to the risk of community spread of COVID-19, after a confirmed coronavirus patient was found to have visited Fitness First in Sydney last week.
Many gyms in Perth have laid out excess hand sanitiser and have placed antibacterial wipes on each piece of equipment to promote gym-goers thoroughly wiping down equipment rather than using sweat towels.
A number have also tacked sanitary warnings above communal water fountains and sinks inside their bathroom facilities.
Cube43 Clarkson gym owner Megan Levett said while hygiene was always a high priority, they had since upgraded their cleaning roster and requested members follow government advice.
"We've upgraded our cleaning roster to include sanitizing all equipment after every use and full gym cleans twice a day," she said.
"We've asked all members that have travelled to high risk areas to stay away for 14 days, anyone that is unwell to not attend until they are better, asked all members to wash their hands before and after each session and use their towel on all surfaces each workout."
As a small business owner, Ms Levett said she had also given members free access to the Cube43 App for online personalised programming so they can train at home if they needed to.
The extra measures come after Chief Medical Officer Brendan Murphy told ABC program Insiders people should not stop going to the gym just yet.
"The move to reduce mass gatherings is a preemptive move," he said.
"I think the gym is fine. Everybody at the moment needs to practice very good hygiene," Murphy continued.
"If you're going to the gym, I would be very focused on hand washing, using hand sanitisers, all of those social distancing, good hygiene measures."
WA schools are set to continue operating despite the AMA WA urging the government to close them more than two weeks before holidays.
AMA WA president Andrew Miller has continued his calls to close schools from March 23 until the end of the scheduled April school holidays.
Despite the plea, Premier Mark McGowan has confirmed the government's planning was working towards closing schools but only when it needed to, and now was not the time.
Although the school bells will continue ringing, schools have taken matters into their own hands following the Prime Minister's announcement of banning mass gatherings of more than 500 people.
While the Education Department banned all overseas school-planned travel, some schools, like Ellenbrook Primary School, have taken a step further and have banned assemblies.
EPS issued parents and guardians a letter advising that all assemblies for Term 1 will be cancelled.
Although, with Harmony Week kicking off on Sunday, the school said its Harmony Day celebrations will go ahead because it will be an outdoor event.