Amazon said on Monday that it needs to hire 100,000 people across the US to keep up with a crush of orders as the coronavirus spreads and keeps more people at home, shopping online.
The online retailer said it will also temporarily raise pay by $US2 an hour through the end of April for hourly employees.
Locally, supermarket Coles has announced they are hiring 5000 new casual staff members to keep up with demand in Australian supermarkets.
National Australia Bank has sent staff home from its head office in Melbourne, after an employee tested positive to the coronavirus.
In a note to staff, the bank's chief executive Ross McEwan said the bank expected to have the building ready for work later this week after it had been properly cleaned.
"In consultation with health authorities, we are vacating the 700 Bourke Street building and will have it pandemically cleansed. All colleagues from 700 Bourke should go home and continue to work from home," Mr McEwan said.
Mr McEwan acknowledged staff might be experiencing "heightened stress," and he said the bank was carrying out more frequent and thorough cleaning of all its buildings.
Like other banks, NAB has implemented a "split teams" arrangement, in which teams of staff are put into two groups that are kept separate from each other.
With Perth Wildcats leading Sydney Kings 2-1 in the best-of-five series, the NBL has made the decision to scrap the remaining games, with a result to be determined in the next two days.
NBL boss Larry Kestelman said that "we will now consider a decision on the outcome of the championship over the next 48 hours."
"We acknowledge both teams for what has been a fantastic series and season. Sydney was the only team to have gone through an entire NBL season on top of the ladder and Perth was leading the grand final series."
Liberal senator Andrew Bragg has become the third federal politician to test positive for COVID-19.
Senator Bragg was at a wedding in NSW where six other guests have been confirmed to have contracted the virus.
"I was a guest at a friend's wedding in Stanwell Tops on 6 March. After satisfying the guidelines of direct exposure and flu symptoms, I have tested positive to Coronavirus," he said on Twitter.
"I am following the guidelines set by NSW Health and will isolate myself. I thank St Vincent's Hospital Sydney for their support & care."
The latest stats from NSW Health say that there 210 confirmed cases of COVID-19 in the state, and another 1482 cases still under investigation.
The department also released details of flights where passengers may have been exposed to people who are showing symptoms:
Singapore Airlines flight SQ221 from Singapore to Sydney, arriving 2 March 2020. Close contacts were in rows 91 – 95
Etihad flight EY450 from Abu Dhabi to Sydney, arriving 6 March 2020. Close contacts were on rows 42-46
Singapore Airlines flight SQ231 from Singapore to Sydney, arriving 6 March 2020. Close contacts were in rows 19 – 24
Emirates flight EK414 from Dubai to Sydney, arriving 8 March 2020. Close contacts were in rows 11 – 16, 45 – 49 and 58 – 62
Virgin Australia flight VA2 from Los Angeles to Sydney, arriving 11 March 2020. Close contacts were in rows 2 – 6
Qantas flight QF 8 from Dallas to Sydney, arriving 11 March 2020. Close contacts were in rows 11 – 15 and rows 74 – 77
Qantas flight QF424 from Melbourne to Sydney, arriving 11 March 2020. Close contacts were in rows 1 – 3
Qantas flight QF12 from Los Angeles to Sydney, arriving 12 March 2020. Close contacts were in rows 2 – 5
Etihad flight EY450 from Abu Dhabi to Sydney, arriving 12 March 2020. Close contacts were in rows 42 – 45
Qantas flight QF426 from Melbourne to Sydney, arriving 14 March 2020. Close contacts were in rows 8 – 12
Emirates flight EK414 from Dubai to Sydney, arriving 15 March 2020. Close contacts were in rows 39 – 43
The 2020 Stawell Gift has been cancelled due to the coronavirus outbreak, though the race could potentially be rescheduled for later in the year.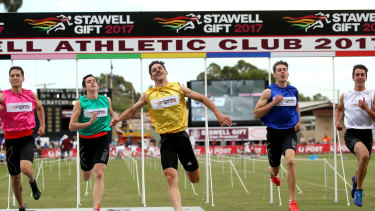 Just weeks after being given a financial bailout by the Victorian government to allow it to continue this year, the historic footrace has been forced to cancel.
All evictions must be stopped, and phone, energy and finance companies must back off households trying to survive on reduced incomes during the coronavirus crisis, Homelessness Australia and a coalition of more than 30 community groups say.
Homelessness Australia chair Jenny Smith has also called for the federal government to immediately deliver emergency payments to casual workers who lose their income during the pandemic, to prevent a "tsunami of homelessness".
Children's musical entertainers The Wiggles have cancelled their Queensland tour next month.
The group had been scheduled to perform 11 shows across the Gold Coast, Moreton Bay Region, Brisbane, Redland City, Ipswich and Logan.
"Out of caution for public health concerns and in line with the new directions of the government and health authorities, we will sadly be cancelling our upcoming Queensland Fun and Games Tour," The Wiggles said in a statement posted on Twitter.
"We are so disappointed we will not be able to bring our tour to you but we have a duty of care to do what is best for the health and safety of our audience.
"Your venue will be in contact to arrange a full refund. We truly appreciate your patience and understanding at this time."
A third UNSW student has tested positive for COVID-19 and was symptomatic while on campus.
The student attended a three-hour class during the evening of Monday, March 9 at the UNSW Kensington campus.
The university confirmed the new case on Tuesday afternoon and said the student exhibited mild symptoms during the class, before they became unwell later that night.
"They did not attend campus today," the UNSW statement read. "Students who attended the class have been contacted and advised to self-isolate for 14 days.
We're working with NSW Health to identify anyone else who was in contact with the student."
UNSW continues to operate and will not shut its campus, but yesterday it began implementing remote learning practices and minimising face to face contact in study and work arrangements.
"These measures are being put in place at least until the Easter break," the statement read.
A team of experts from the Imperial College in London has just released some of its modelling of the coronavirus outbreak in the UK and US.
The chart below shows the percentage of people they think will require hospitalisation after catching the virus, and then the percentage of people in hospital who will then require intensive care treatment. It also shows forecast fatality rates.
The graph is significant because this team is part of a team advising Downing Street on Britain's response to the pandemic.